MIIS@work has joined the MIIS blogging community at http://blogs.miis.edu/work. Please join us there.
Last Friday, some of the staff gathered at the TLC for a Friday sandbox session on personalizing the web.  This was a rich conversation about using tools such as nevibes or igoogle to organize your information streams.  There is just too much information out there on the web – using tools to organize it and put it in one place will save us time.  For more information about how sites like these work or for a simple explanation of RSS Feeds, check out this video.
To help start the process, Kristen Byers put together a public netvibes page filled with the RSS feeds/widgets related to MIIS.  If you sign up for a free netvibes account, you can simple click on share button on the MIIS widgets and directly add them to your netvibes page – no mess, no stress.  Creating your own page will allow you to keep up to date on the happenings at MIIS as well as your favorite non-MIIS sites.  One place for all your web needs.  You can even add goldfish or cartoons!  The other nice thing is that you can log into this site from any computer.
Stay tuned for more Friday Sandbox sessions to keep playing and experimenting with technology & innovation.  The DMC is also offering a number of interactive workshops for learning digital media and communication tools.  As always, feel free to stop by Kade anytime for development conversations and exploration of possibilities.
The implementation of our new applicant tracking system, iGreentree, will be completed on Wednesday, October 28th. Once we go live, we will be utilizing the same applicant tracking system as Middlebury. Middlebury completed their implementation on October 15th.
HR will provide user names and passwords as needed. Most will not need this information until the initialization of a recruitment or participation in the selection of a candidate. On-going recruitments will be transferred to the new system although some applicant information may be stored separately. We will provide training on the use of iGreentree on an individual basis for hiring managers or administrators as they initiate a recruitment.
To log onto iGreentree to initiate a recruitment or to review applications for current recruitments, after receiving your username and password from HR,please use the following link: https://middlebury.igreentree.com/HiringManager_MIIS
Separate lists of open positions for external and internal applicants, will be available through the MIIS web site on Wednesday, October 28.
Please feel free to contact either Cathy or Michael in the HR office if you have questions (x3520).
Greentree is a private corporation founded in 1983 with headquarters in Campbell, CA. They provide applicant tracking support to numerous entities, both public and private including Temple University, University of California/Irvine, Oak Ridge Associated Universities and various community colleges and schools of medicine. Greentree was selected from a group of three service providers because of their ability to provide the needed flexibility and reporting required for both the Middlebury and MIIS campuses.
The Peace Corps Club presents the:
2010 International Calendar!
Now available for only $10.00
Visit us in the Samson Center Courtyard 12PM – 2PM, Tuesdays, Wednesdays, and Thursdays for the next two weeks: Oct 20th – 30th or contact Bill Reinecke at wreinecke@exchange.miis.edu
MonTREP researchers and GSIPM faculty members Jeffrey M. Bale, Sharad Joshi, and Gordon Hahn all gave talks at a panel on "Leaderless Jihad? Terrorist Attacks in the New Millenium and Lessons for the Future," a panel which Professor Bale organized. The panel took place at 10 am on October 17 at the 2009 ISSS-ISAC Conference, which was co-sponsored by NPS and CNS and held over a three-day period at the Hyatt Regency Resort and Spa in Monterey. Professor Bale's talk was on the March 2004 Madrid bombings, Professor Joshi's talk was on the November 2008 Mumbai attacks, and Professor Hahn's talk was on recent Chechen terrorist operations. In addition, there was a talk on counterterrorist radicalization strategies by Lorenzo Vidino (a postdoctoral fellow at the Belfer Center at Harvard University). The panel chair and discussant was Professor Phil Williams, director of the Ridgeway Center for International Security Studies at the University of Pittsburgh. Despite being on the last day and in the last time slot, the panel was attended by over 20 people, a relatively large audience for the conference.
A new Nonproliferation and Terrorism Studies Program – the first of its kind in the world —  was approved last weekend by the Middlebury Board of Trustees, having been reviewed by MIIS faculty and administration and the MIIS Board. The new program builds on the Institute's existing certificate program in nonproliferation and the terrorism studies concentration . Both academic tracks have experienced significant growth in recent years, reflecting students' strong interest in these issues, as well as increased demand in both the public and private sector for policy experts in the fields of weapons of mass destruction and the threat of terrorism.
The Nonproliferation and Terrorism Studies Program's curriculum will be supported by the Institute's James Martin Center for Nonproliferation Studies (CNS) and Monterey Terrorism Research and Education Program (MonTREP).
Global Vision-Global Reach: Monterey/Middlebury Lecture Series
presents:
Richard Wolfson
Benjamin F. Wissler Professor of Physics, Middlebury College
"Nuclear Power: One Environmentalist's Perspective."
Wed, Nov. 11, 6:00 -7:30 pm
McGowan 102
Pro- or anti-nuclear? To this environmentalist, nuclear power is too complex for a simple "pro" or "anti" stance. On the one hand, nuclear power is decidedly dangerous, with its deadly radioactive waste, potential for accidents and terrorist attacks, and its connection to nuclear weapons. On the other hand, nuclear power provides a significant fraction of the world's electricity, and does so with minimal carbon emissions. The nuclear option is one of only two long-proven, large-scale alternatives to fossil fuels for electric power generation. And the very thing that makes nuclear power dangerous—its high energy density—also means that the nuclear option uses far fewer resources and generates far less waste than fossil fuels. So how should an environmentalist view nuclear power? This talk gives one environmentalist's nuanced answer.
Please join the folks at the TLC for a Friday Sandbox session on the new blogging community.  The Friday Sandbox started last year as a time/space where staff could get together and play with new technologies.  All skill levels are welcome and the goal is to experiment, have fun, and learn a thing or two.  The TLC hopes to have Sandbox sessions most Fridays and are looking for suggestions for new topics/themes.
In general, the TLC is always looking to help with idea development and innovation of all kinds.  Feel free to stop by Kade – they love visitors and sometimes  even have treats!
Last month, Institutional Advancement welcomed Anna Dudney as its new development coordinator. She will provide strategic support to IA's major gift fundraising efforts and overall direction for its participation-level fundraising initiatives.
Anna knows the Institute well; her mother is a MIIS graduate and Anna herself graduated from the nearby York School. She received her BA from Loyola Marymount University in Los Angeles and is fluent in both Polish and French. Anna will return to Loyola next week for the conference Social Justice & Diversity by the Sea: Spirituality, Creativity, and Activism, where she will be presenting her paper Gender Wars at Work: A Lesson in Ideology from Anchorman. The conference is being convened by the Organization for the Study of Communication, Language, and Gender.
Please join IA in welcoming Anna to MIIS!
The un-book club is being revived and the great thing about this club is that you don't have to read the book; although, you are encouraged to.  The selected book is, The Six Secrets of Change, Michael Fullan.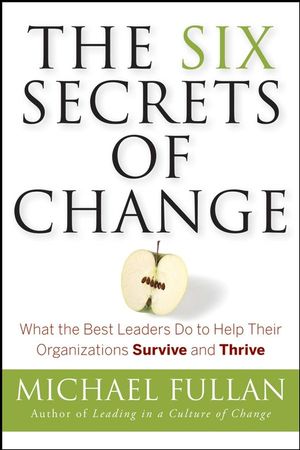 Don't have time to read the book?  Here are some podcasts of Michael Fullan:
http://www.kdp.org/teachingresources/podcastsechapter.php
http://media.kucrl.org/archives/370
Do you want to in get together with your colleagues in an informal setting? Want to share your theory that travels (introduction)?  Interested in discussing how MIIS can become a FOE – Firm of Endearment (chapter one).  If so, read the book or listen to the podcast and choose a time on doodle that might work for you. Location will be announced.
The annual William Tell Coleman Library book sale will take place October 19 – 25.
If you have books to donate, Contact Peter Liu (647-4139) or Christie Tam ( 647-4135).
Professor Akaha (GSIPM) and Professor Vassilieva (GSTILE) will begiving presentations at a seminar on "Russia's Evolving Relations with East Asia," hosted by the Graduate Institute for Asian Regional Integration, Waseda University, on October 14. More  information.
On a recent trip to Middlebury for M-squared discussions, Prof. Tsuneo Akaha gave a lecture on "Human Security and Regional Cooperation in East Asia." You can view the lecture in Middlebury's video archive.
2010 Calendar Photo Contest Announced
The calendar will showcase and celebrate the experiences, diversity and cultures present at the Institute and will be available for purchase this holiday season.
* Open to all members of the MIIS community (Students, Faculty, Staff, and Alumni)
*  There are no specific scenes or categories required for this photo contest. Please consider submitting images that reveal the culture, people, scenery, traditions and/or unique aspects, capturing the essence of a place you have visited or live.
*  All photos must be submitted digitally on a CD or DVD, no exceptions. (If your photo was taken with a film camera, please scan it and submit it as a digital file)
* Digital photos must be at least 300 dpi (1 MB or more in size)
* Color and Black and white photos will be accepted.
* You can submit a maximum of three photos per person.
*  When you submit your photos you must include:
Your Full Name
If you are a Student, Faculty, Staff, Alumni
Email Address
Phone Number
Title of photo (for each photo)
Location (for each photo)
Caption for photo (for each photo)
* You must also submit a signed release waiver for the photos. (Please see attached file)
* Deadline for all submissions is Friday, October 9, by 5:00 pm. (No Exceptions)
* The top 12 photographs will be used in the calendar
* Photographs will be judged by the Monterey Institute Community in an online voting process during the week of 10/12/09-10/16/09. Winners will receive a free calendar.
* The twelve photographs chosen for the calendar publication become property of the Monterey Institute of International Studies. Photographs will be viewed online via a password protected website. By submitting your photograph(s) you are authorizing that they can be uploaded to a third party site for viewing and voting.
* Only one photo from each photographer will be eligible to win a place in the calendar. If more than one photograph from a single photographer wins, the photograph that received the most votes will be the winning photograph for that photograph. The subsequent places will be awarded to the photographs from other photographers with the next highest vote count.
Submit your photos to Gail Lu, Coordinator of Student Services, in the Student Affairs building. If needed, you can also send your photo CD by mail to Gail Lu, Monterey Institute of International Studies, 460 Pierce Street, Monterey, CA 93940.
If you have any questions, please call 831.647.3586 or email gail.lu@miis.edu.
We will continue to hold the Annual International Bazaar Photo Contest in the spring.
The Monterey Institute's Style Guide was recently updated and is available for download here and on the Web site's Faculty & Staff resources page. The Style Guide provides policies and guidelines for use of the Institute's logo and seal, as well as answering questions from "What's the correct way to refer to alumni degrees?" to "How should I format the term M-squared?" Please make it your first reference for any and all question about Monterey Institute style, and share any feedback with Jason Warburg, executive director of communications.