Yes, Virginia, there is a Santa Claus, after all, it's snowing in June.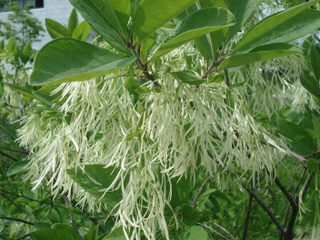 Yeah, Lilacs are nice, and the Bridalwreath Spirea was nice for the 3 days it bloomed this spring, but, oh, to have something spectacular bloom in June, when everyone and everything is a little more relaxed, the crazy spring fever starting to abate, now that's a shrub worth talking about.
White Fringetree, Chionanthus virginicus, is in bloom right now on campus. Look for some southwest of the new library, in the native shrub border. Stunning threadlike flowers like a witch hazel on steroids in a pure white cover the inside of this plant for a couple of weeks at least.. Being very late to leaf out means the flowers show up well. Nice fragrance, somewhat indefinable, but certainly breathtaking nonetheless.
While not in flower, it is still an attractive shrub or small tree, often wider than tall, going anywhere from 12-20 fee in both width and height. The texture of the plant is somewhat coarse in leaf and in winter, but not unsightly by any means. Blue-black fruit well hidden in the fall is favored by birds-apparently they love it but I haven't asked them. Most seem to have a bright gold fall color: I was impressed with the one at my house. Slow growing, I will admit, 6" seems to be impressive from what I have read.
Hardiness seems to be an issue, for everyone says something different. My old copy of Michael Dirr's "Manual of Woody Landscape Plants" says it is hardy to zone 3, the newer copy at work claims zone 4. Look on the internet, and many state zone 5. After several harsh winters, including this last one that took out a previously hardy forsythia at my house (Weekend Forsythia, lying when the breeder stated Zone 4, my gave up the ghost this winter at -22), the Fringetree shows not even an inch of dieback, and is in full bloom.
Dirr makes a case for making this the national shrub, as it is native from southern New Jersey to Florida and Texas. He says the British consider the Fringetree to be the finest American plant introduced into their gardens. They gave us Led Zeppelin, I consider us even. Did I mention this plant is air pollution tolerant and well adapted to harsh city locations? I'll be planting more of these around campus-I'm thinking about up against a brick building, picture its white flowers glowing in front of the red.