DLA Leadership
Amy Morsman, Faculty Director of the DLA; Professor of History
Amy Feely Morsman came to Middlebury in the fall of 2001. A native Virginian, she earned her degrees from Wake Forest University and the University of Virginia. She teaches courses in American History, primarily around the topics of the Civil War and women's history. Her research interests lie in the historical evolution of gender roles, race relations, and regional differences. Her first book, The Big House After Slavery: Virginia Plantation Families and their Postbellum Domestic Experiment, was published by the University of Virginia Press in 2010. She is working on a new book project that focuses on race relations and the legacy of the abolition movement in the postbellum Northeast.
Jim Ralph, Dean of Faculty Development & Research; Director, Center for Teaching, Learning, & Research; and Rehnquist Professor of American History and Culture
DLA Executive Steering Committee Member
Jim Ralph is the Dean for Faculty Development and Research. He is also the director of the Center for Teaching, Learning, and Research. He has taught in the History Department, where he specializes in American History, particularly the Civil Rights Movement, since 1989. He is the Rehnquist Professor of American History and Culture. He is the author of Northern Protest: Martin Luther King, Jr., Chicago, and the Civil Rights Movement.
Jason Mittell, Senior Adviser to the DLA; Professor of Film & Media Culture and American Studies
DLA Executive Steering Committee Member
Jason Mittell teaches in Film & Media Culture and American Studies, and his research focuses on American television, film, and digital media, narrative theory, and cultural studies. He is an advocate and innovator for open access and open review publishing and the promotion of academic fair use. His digital work has foregrounded video essays, co-founding the journal of videographic criticism, [in]Transition.
Mike Roy, Dean of the Library
DLA Executive Steering Committee Member
Mike Roy is the Dean of the Library at Middlebury College. Middlebury's library partners with students and faculty in the creation of a 21st century information environment that spans traditional and emerging formats, and supports access to critical sources, tools for the creation of knowledge, and platforms for dissemination and collaboration.
Amy Collier, Associate Provost for Digital Learning
DLA Executive Steering Committee Member
As the Associate Provost for Digital Learning at Middlebury College, Amy Collier provides strategic vision and leadership to position Middlebury as a leading innovator in creating and sustaining a global learning community through the effective use of digital pedagogies and technologies. Working closely with the provost, other associate provosts, and the deans/VPAAs who oversee Middlebury programs, Amy identifies and pursues opportunities for Middlebury to create online and hybrid/blended courses and programs that meet the highest standards of academic integrity and pedagogical innovation; enable Middlebury to leverage its intellectual and pedagogical resources, within and across locations of the institution; connect diverse Middlebury programs with each other; and enrich the experience of current and potential Middlebury learners, from undergraduates and graduate students earning Middlebury degrees to a global community of alumni and professionals.
Bill Koulopoulos, Director of Learning Spaces and Infrastructures
DLA Executive Steering Committee Member
Bill Koulopoulos is the Director of Academic Technology at Middlebury College. In his role he oversees the delivery of new faculty and student training initiatives in the meaningful use of instructional technologies and promotes experimentation with and assessment of innovative research and teaching methods.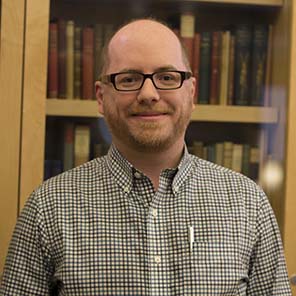 Ryan Clement, Data Services Librarian
As the Data Services Librarian, Ryan Clement provides general research and technology assistance to students, faculty, and staff at Middlebury, and specialized assistance to those working with data, particularly in the social sciences and humanities. He can help with projects involving finding, acquiring, managing, interpreting, analyzing, and visualizing data.
Faculty Fellows 2020-2021
Dima Ayoub, CV Starr Fellow in International Studies and Assistant Professor of Arabic
Dima Ayoub, Ph.D. (McGill University) is an Assistant Professor of Arabic and Director of the Middle East Studies Program. Her research focuses on the importance of paratexts in the production, circulation, and reception of Arabic literature in English, French, German, and Spanish translation. She is currently working on a book-length project that rewrites the modern literary history of Arabic literature through the lens of the paratext. In addition to her specialization in translation studies, her work also focuses on feminist and queer theory as well as postcolonial and diaspora studies.
Dr. Ayoub's work connects the fields of Digital Humanities with studies of Arabic and comparative literature – she has developed a digital archive of modern Arabic literature in English, French, German and Spanish translation. To learn more about the project go here.
Hang Du, Professor of Chinese
Hang Du, a native of Beijing, has been calling the Green Mountain State home for ten years now. She holds an MA in Linguistics, and a Ph.D. in Second Language Acquisition from the Interdisciplinary Ph.D. Program in Second Language Acquisition and Teaching (SLAT) at the University of Arizona. Prior to joining the Chinese Department in 2004, she had taught first-year Chinese in the Middlebury Chinese School for two summers in 2001 and 2002. Her language teaching includes over 15 years' experience teaching beginning Chinese, second-year Chinese, and senior seminars about contemporary Chinese culture and society for students who have returned from study abroad in China, using all authentic material written/produced by and for the Chinese people. In addition, Hang Du has had extensive training in giving the Chinese Oral Proficiency Interview (OPI) following guidelines created by the American Council on the Teaching of Foreign Languages (ACTFL). She has also designed standardized test items for American Councils for International Education to assess students' Chinese proficiency in the Flagship programs in China.
Hang Du's main research area is the acquisition of Chinese as a second language. Her major publications include the book The Acquisition of the Chinese ba-construction (2006), and two recent articles: "The Development of Chinese Fluency during Study Abroad in China," published in the Modern Language Journal (2013), and "American College Students Studying Abroad in China: Language, Identity and Self-presentation," published in Foreign Language Annals (2015). She has served as a peer reviewer for several major journals in her field, such as the Modern Language Journal, Applied Linguistics, Foreign Language Annals, and Journal of Chinese Language Teachers Association.