Last Friday, our blogging team traveled to Cornish, NH – J.D. Salinger's hometown – to attend a house party hosting Julián Castro, the former Mayor of San Antonio who later served from 2014-17 as Obama's Secretary of Housing and Urban Development and youngest member of his cabinet. (Castro is fond of telling how he got Obama's call to join his cabinet while he was eating at a Panda Express. The caller I.D. said "private caller.") Castro came to New Hampshire trying to generate some momentum coming off what was generally viewed as a strong first debate performance (something he alluded to several times during his talk). The event was held at the home of former New Hampshire state senator Peter Burling, who regularly host Democratic candidates at this picturesque site. (We would return the next day to the same location for an Amy Klobuchar event.)
Despite his strong debate performance, Castro is lagging in the polls – a situation he is trying to turn to an advantage by noting that, as he says in his campaign biography, citing his roots as the grandchild of a Mexican immigrant: "I've never been a frontrunner."  Still, Castro's drawing less than 1% nationally in the RCP aggregate polling.  He's doing only slightly better in NH polling, clustered at 1.3% with Tulsi Gabbard, Klobuchar and Cory Booker.
The evening got off to a slow start, with Castro running 40 minutes late, and then getting introduced as "Julio" when he arrived.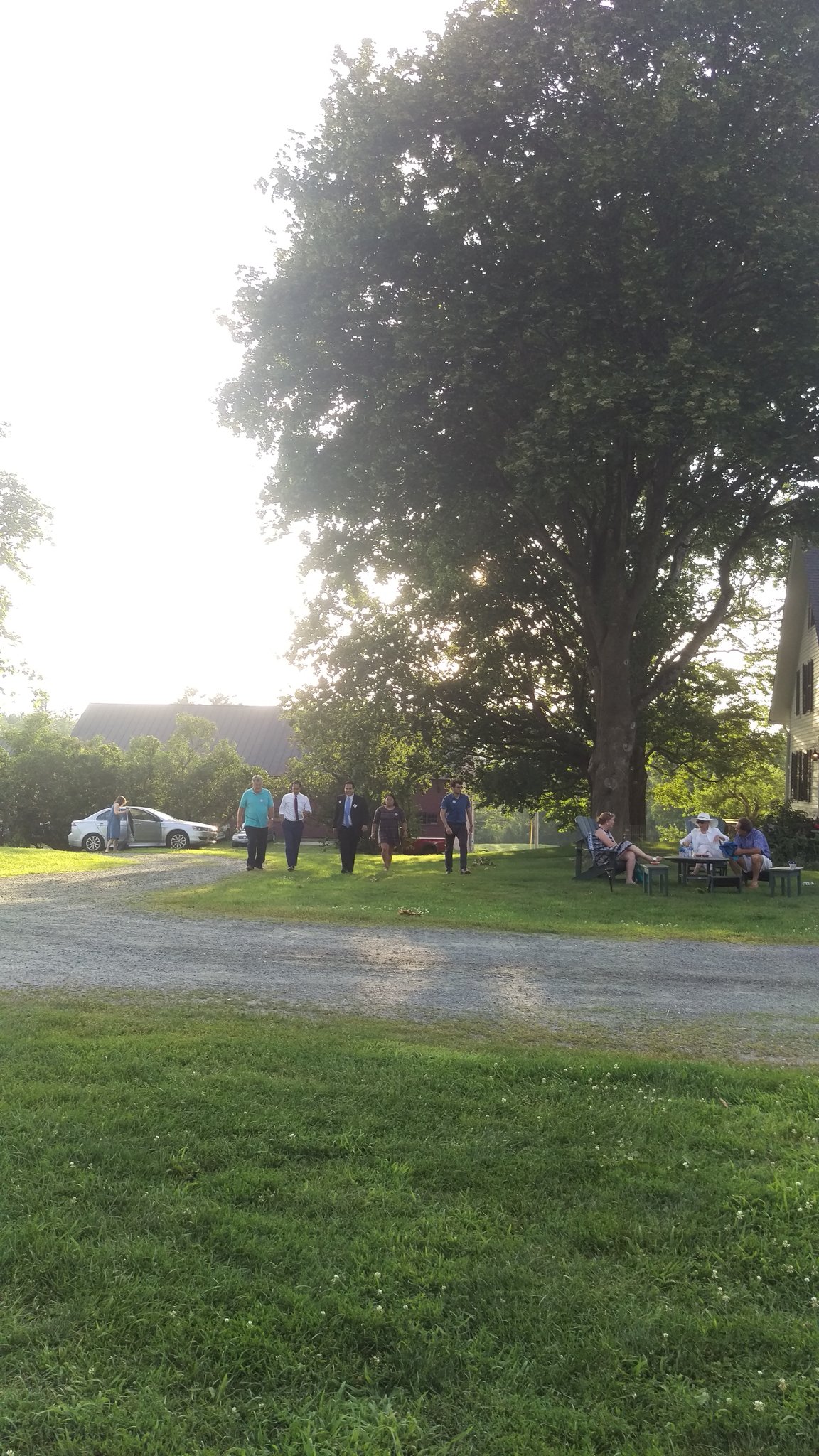 Unfazed, he quickly introduced himself, emphasizing the "an" in Julian, and then presented a brief biographical overview, beginning with his immigrant roots (his grandmother emigrated from Mexico, and raised his mother as a single mom), his upbringing in west San Antonio (opposite the tourist section) raised by a single mother (his parents divorced when he was eight), including attending public schools, and the pride his grandmother felt when he (and his twin brother Joaquin who is currently serving in Congress) were accepted into Stanford. He then attended Harvard Law before returning to San Antonio where he jumped into local politics, initially serving on the city council. Eventually, after losing in his first bid, he was elected mayor of San Antonio in 2009 before resigning to join Obama's administration.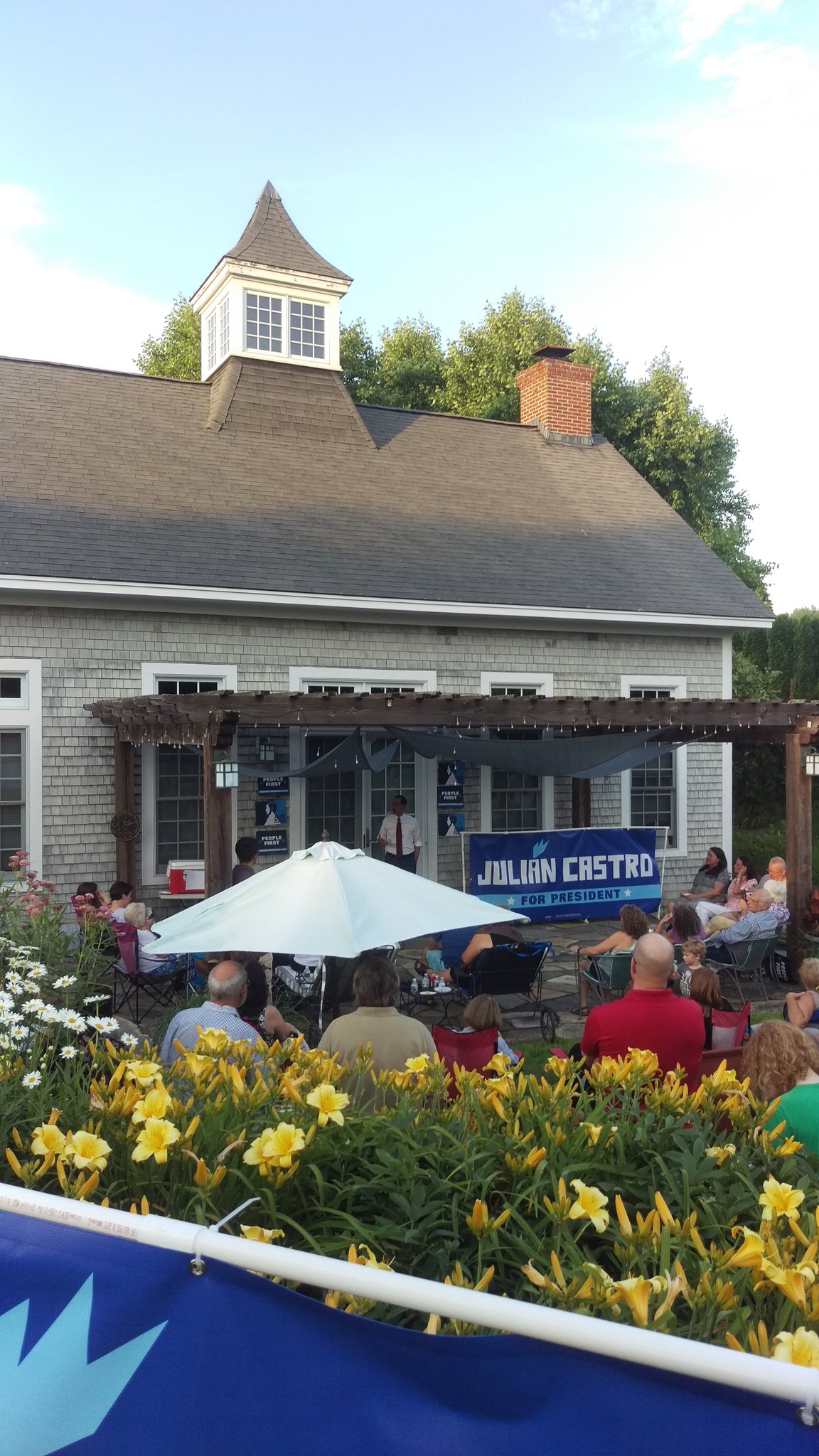 Castro drew in part on those experiences in laying out his presidential vision. He began by emphasizing a theme of inclusivity – one nation, with one destiny – in which everyone counts, contrasting it with Trump's "send them back" rhetoric. He then launched into a dizzying array of policy proposals, delivered in a polished (and often humorous) manner. Noting the lack of investment in people, he began by focusing on education: support for universal pre-K (noting his success on this issue in San Antonio), merit pay for teachers, tax incentives to get teachers to work in low-achieving schools, smaller class sizes, free or reduced prices for school meals for lower-income families and bringing vocational education back so students can learn trades. He also supported tuition free schooling for those attending community colleges and state universities.
He then turned to health care, arguing for an expansion in Medicare for all who want it but not going as far as some of his more progressive rivals who seek to replace private health insurance. Here he also made a point of mentioning the need for more mental health funding. This was followed by a call to reform the justice system: investing in public defenders, pushing sentencing reform and a strong call to retrain local law enforcement by establishing national standards for the use of force. Here he pointed out that he was the only candidate calling to "demilitarize" the police by restricting their access to military-grade weaponry.
This was a policy-heavy presentation, and I likely can't do full justice to it in this post. He supports passing the Equal Rights Amendment, proposes codifying Roe v. Wade in statute, passing an equality act protecting LGBTQ rights, increasing the minimum wage, protecting the right to unionize, and reforming the tax code to reward workers as opposed to executives (here he cited Amazon's pay for CEO's.) For the most part, he placed these issues in a national context, rather than focusing on New Hampshire voters. However, he did mention a rental crisis in New Hampshire as a lead into his proposal for renter tax credits similar to the home mortgage deduction, part of an overall strategy designed to end homelessness nationwide by 2028.
As with every Democrat candidate we've seen, he promised to rejoin the Paris climate accord, and to push the U.S. to become the world leader in "clean" jobs.
Castro finished by returning to his biography, noting how he quit a law firm rather than represent a client proposing to build a golf course on an aquifer, even though the loss of the job made it difficult to pay off loans. (Here he praised caller i.d. for allowing him to screen calls from debt collectors.) He used this to illustrate that he would be "a partner in Washington" working for them and not special interests. "My campaign is based on you," he asserted, reminding listeners that he did not take PAC money.
In an analogy to students at the start of a school semester, Castro acknowledged that New Hampshire voters were "still shopping for classes" but he asked for their support by February 10, the day of the New Hampshire primary. He ended, to loud applause, by saying, "Let say adios to Donald Trump!"
He then opened it up to questions. When asked when he decided to run for president, he said there was no single "epiphany." Instead, his decision has roots dating back to his experience as an undergraduate at Stanford. Although it opened new opportunities, he lamented the lack of community in the San Francisco area, which he contrasted with his feelings of belonging back home. This sparked his desire to return to San Antonio, and to engage in politics to broaden opportunity, and to build on the American dream. By 2016, he sensed that American was ready for a new generation of leadership and running for president seemed like the logical next step.
Asked how he would bring the U.S. back into the global community, Castro responded that it wasn't through military engagements. Instead he would rebuild alliances, and here he focused specifically on Mexico and Canada, noting that they are the U.S.'s most important trading partners. He also advocated for a "Marshall Plan" for Central America. Castro emphasized rebuilding the State Department by investing in our diplomatic corps. When asked if he would support restricting the area in which ICE could enforce border regulations, he said yes, he would restrict it to 25 miles from the border. He used this to talk about the need for a comprehensive immigration policy, including a pathway to citizenship and ending the separation of families. Immigration, he said is not a security issue – it's an economic one. Immigrants are vital for adding to the workforce as baby boomers are retiring, and paying into entitlement programs that are facing insolvency.
When asked, Castro said he doesn't support former Attorney General Eric Holder's proposal to expand the size of the Supreme Court, noting that Republicans would use it to stack the courts when they are in power. Instead, he said he would back term limits for justices.
Finally, he was asked how he would deal with "that bully" Donald Trump. Here Castro returned to his debate performance as evidence that he can effectively stand his own and get his message out. He reminded the audience that Trump "is not a goliath" – he lost the popular vote – and that the way to beat him was by "counter programming." (In the middle of this answer, a woman collapsed from heat exhaustion. Castro rushed over, and when she appeared to recover a bit, he called for a round of applause, before returning to his answer.) He stressed the need to unite into a broad coalition, to work together, rather than try to "out gun" Trump. "That's what I will do" as president, he concluded.
At this point Castro cut short the Q&A in order to go into the house for a live remote interview with Anderson Cooper, although he promised to return to take pictures. Since it was already getting dark we decided to head back to God's Green Mountains, but not before snapping our own picture of a local politician next to a Castro sign.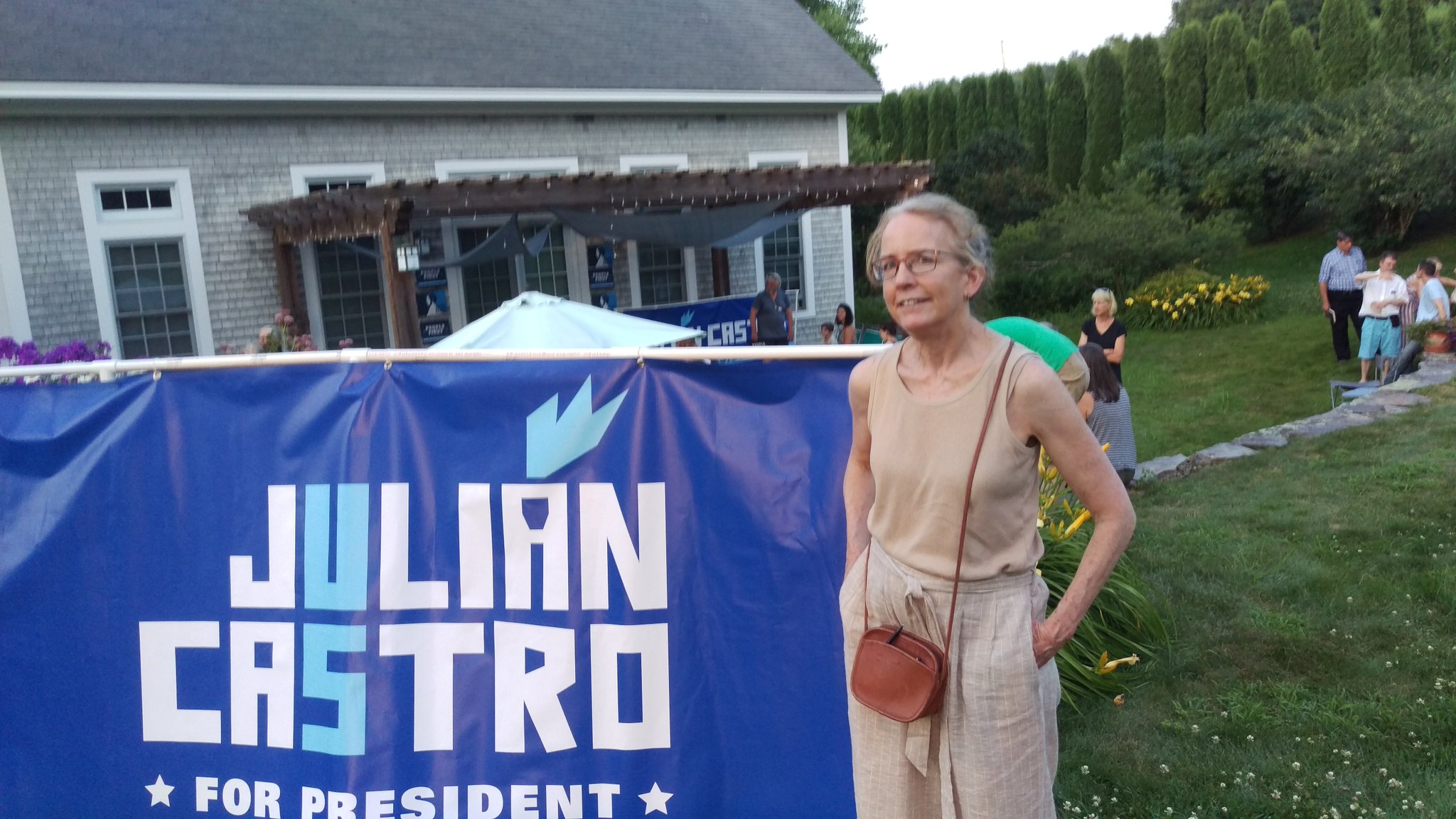 As we left we could see Castro amid the glow of the television lights emanating from a window as he conducted his interview.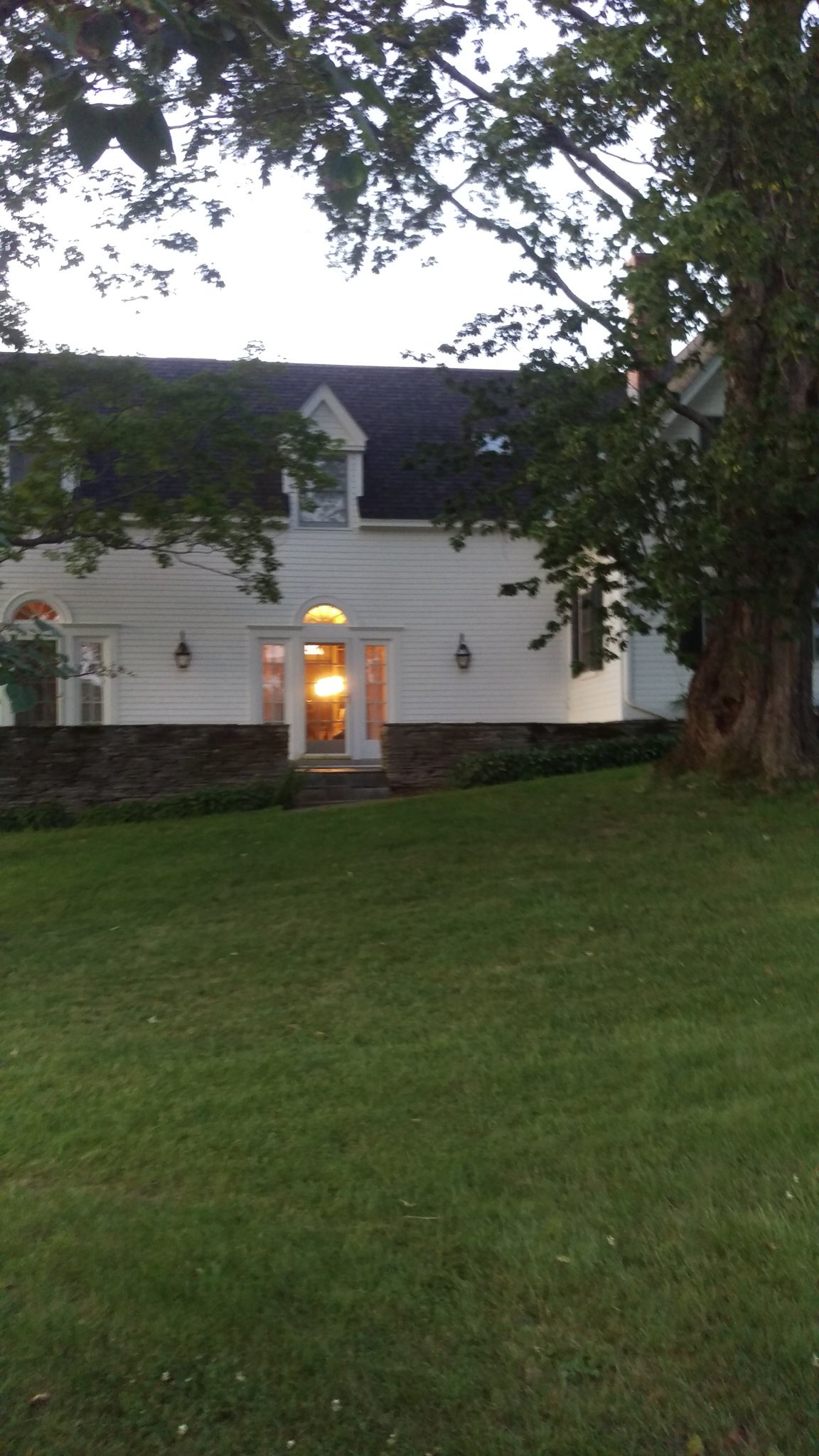 Castro clearly has strengths as a candidate – his background, coming from immigrant roots to attend Stanford and Harvard Law, get elected mayor of a major city, and earn appointment to Obama's cabinet, epitomizes the American dream. He is knowledgeable about a range of issues, and as a Texas politician carries particular credibility on immigration policy, which he sought to showcase in his exchange with Beto O'Rourke during the first debate. And he was the first candidate to present a comprehensive immigration plan. One might argue that Castro, should he win the nomination, has a shot at unlocking Texas' 38 Electoral College votes. In fact, however, Castro lags far behind O'Rourke in Texas polling, which likely reflects O'Rourke's better name recognition after running against Ted Cruz for the Senate seat. He's also lagging in the polls in Nevada, a state with a large Latino population, and which holds its caucus a week after New Hampshire's first-in-the-nation primary. As yet, six candidates are polling ahead of him among this set of voters. However, it is early, and polls suggest a substantial number of Latinos remain undecided. Moreover, caucuses can be difficult to poll accurately. Interestingly, polls suggest that health care, and not immigration, is the top priority among Nevada Democrats.
As with many Democrats lower in the polls, Castro's problem is overcoming a lack of name recognition – a problem heightened by the media's tendency to write off second-tier candidates. At 44 years, he is also young, and it is not clear whether voters see him as ready for the highest office in the land. Still there are signs that with another strong debate performance, there is room for growth in his support. A Univision post-debate poll shows his support among Latinos growing to 28%, placing him second – up from third before the debate – 4% behind Kamal Harris, among Latino voters. And he now leads in net favorability among Latinos. This suggests that another strong debate performance might push Castro closer to the top five candidates, particularly if one of them (Buttigieg? Sanders?) begins to see an erosion in support. And if he puts together a strong ground game in Nevada, he may be one of the candidates left standing heading into Super Tuesday, which includes the Texas primary.
Stay tuned. Next stop: Amy Klobuchar's New Hampshire house party.