This is the second of a two-part post recounting my visit to a Beto O'Rourke house party in the New Hampshire lakes town of Meredith. You can read the first post here. In this post I'll describe what I saw and heard after Beto arrived.

Reminder: Unless in quotation marks, I'm paraphrasing what I heard, based on notes taken at the time along with my live tweets.
Beto entered the living room as the staff-led chant of "B-E-T-O Let's Go Beto!" reached a crescendo (which they had to hold for a bit longer than anticipated when he stopped just outside the door to greet a visitor). In person Beto appears slightly taller than I expected based on media clips, and thinner as well. Although this was his 4th campaign stop of the day, he showed no signs of fatigue; rather, he exuded an earnestness and energy that border on hyperactivity. His staff positioned him in the center of the living room, where he could make eye contact with the circle of people around him and on the overhanging balcony.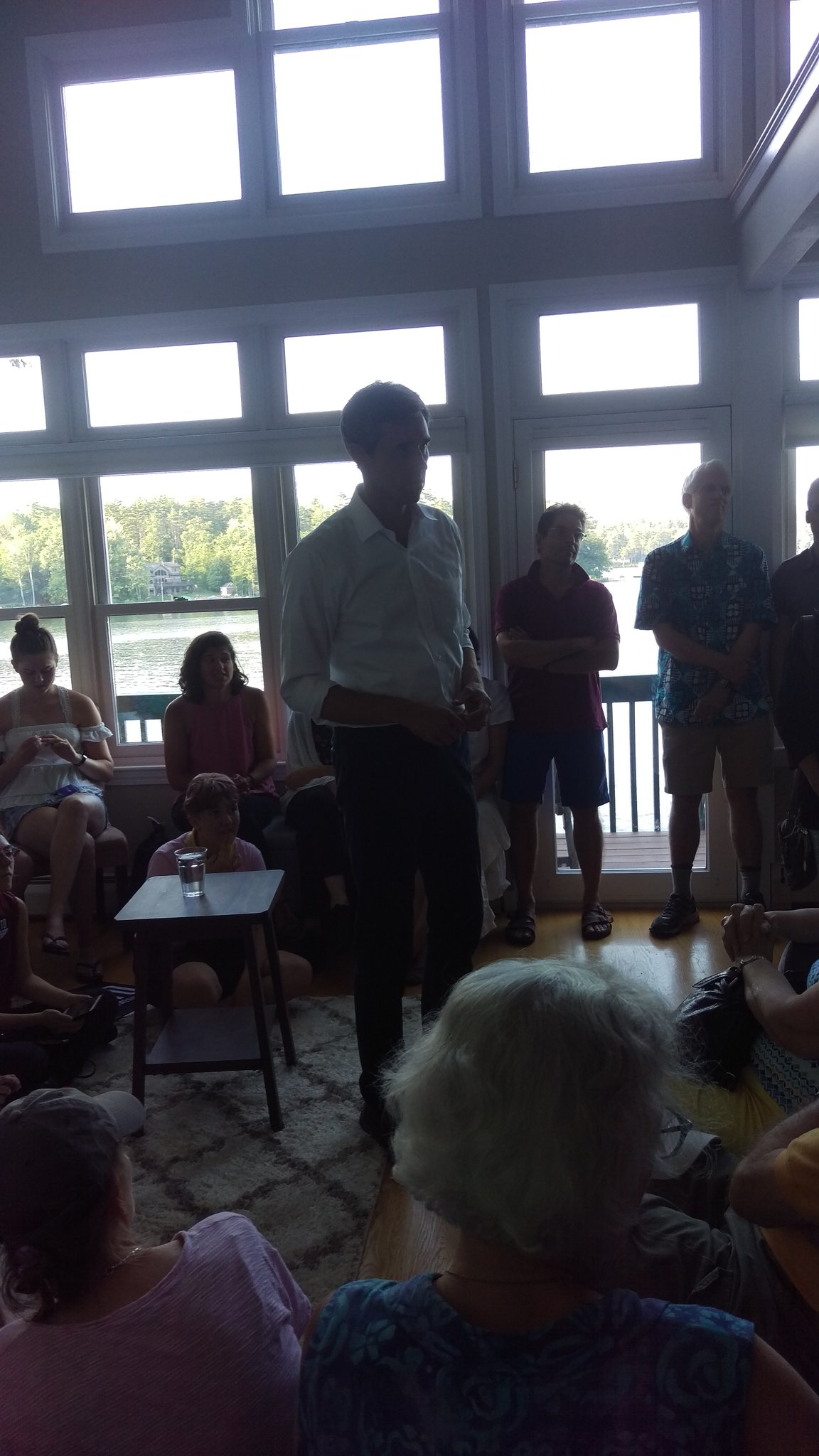 After a few opening remarks commenting on the excessive size of New Hampshire mosquitoes, and the beauty of the surrounding landscape ("I certainly came at the right time of year!"), he launched into his campaign spiel, which was fascinating both for the breadth of topics he covered and the almost-stream-of-conscious manner in which he presented them. He began by noting that he had attended a Lights for Liberty vigil the previous night, and it was a reminder of the danger our democracy is in when children who have committed no crime are incarcerated by the government. From there he segued into a reminder of the Civil Rights Movement's accomplishments a half century ago, and linked that to the need to expand access to health care while making it more affordable (here he related the story of Petra, a special needs child who would need a lifetime of health care which would be unaffordable without caps on lifetime healthcare spending), and to maintain access to abortion clinics and to clean drinking water before turning to education policy and student debt. After listing these problems, he asked, rhetorically, how do we meet the challenges? Here he touted his own candidacy, focusing on his race in Texas where he came within 2.5% of unseating Ted Cruz, and noted he did so by running a campaign in which he visited all the counties in Texas. He emphasized his belief in hearing all voices, which was the centerpiece of his campaign, and he boasted that he had unlocked Texas' 38 electoral votes.
Beto then opened the floor for questions. Interestingly, while the questions weren't confrontational, they did push Beto to clarify or defend his positions – these weren't softball tosses. The first question came from an individual who had benefited under the Affordable Care Act (he had treatment for a heart condition) and worried about losing his private health insurance. This issue has become something of a fault line among Democrats, pitting the more "moderate" candidates like Biden versus the progressives led by Warren and Sanders. (It is fascinating, however, when you consider that Biden's "moderate" position includes moving toward a public option – an issue that was viewed as too radical to be part of Obamacare in 2009.) O'Rourke said we need to move toward universal coverage, but maintaining choice as we do. Health care, he said, should be high quality, guaranteed but also allow those who like their current doctors to keep them. Low-income individual should have the right to enroll in an expanded Medicare program, while maintaining the current system of private care.
He was then asked what he would prioritize as president, and like Biden earlier in the day, O'Rourke highlighted climate change, which he described as an existential crisis. Here he mentioned that this was an issue that was particularly pressing to the younger generation, and he cited his concerns for his own children, ages 12, 11 and eight.
Would he ban LBGT "conversion therapy"? Beto: "Yes" – and he used this topic to address the need to prosecute hate crimes.
How would he address the Palestinian-Israeli conflict? (The questioner prefaced this with a condemnation of Israel's occupation of Palestinian territory. A follow up question from another individual also touched on this topic.) O'Rourke said he would pressure both parties to accept a two-state solution, which he argued is the only viable resolution, but said it was also important to understand that the U.S. could not "impose" a solution – it could only assist the two parties in achieving their own resolution. He acknowledged that he did not support the BDS (Boycott, Divest and Sanctions) movement. Here he noted the need to lead by example, and criticized the Trump Administration for providing aid in support of the Saudi intervention in the Yemen civil war.
How would he tackle the pending insolvency in entitlements program without adding to the deficit? O'Rourke would raise the caps on income tax for Social Security and would rescind the Trump tax cuts, and use the additional revenue to shore up entitlement programs.
On foreign policy, he criticized the Trump administration, noting that the Obama nuclear deal with Iran was about as good as we could get and that engaging in a trade war with China without allies is a bad idea.
Did he support compulsory voting? No. Instead, he wants to make it as easy to vote as possible, through same-day registration, making Election Day a national holiday, strengthening the Voting Rights act, ending gerrymandering, and upgrading election security, including paper receipts for voting.
Finally, he was asked what kind of a leader he would be? Here he emphasized the importance of setting the proper "tone" and he cited his interaction with voters in New Hampshire, and the need for accountability to the voters, as indications of how he would lead. Democracy, accountability and service were his watchwords, and he promised to pursue the national interest, rather than catering to the polls.
When the Q&A ended, he went out on to the deck for the obligatory selfies.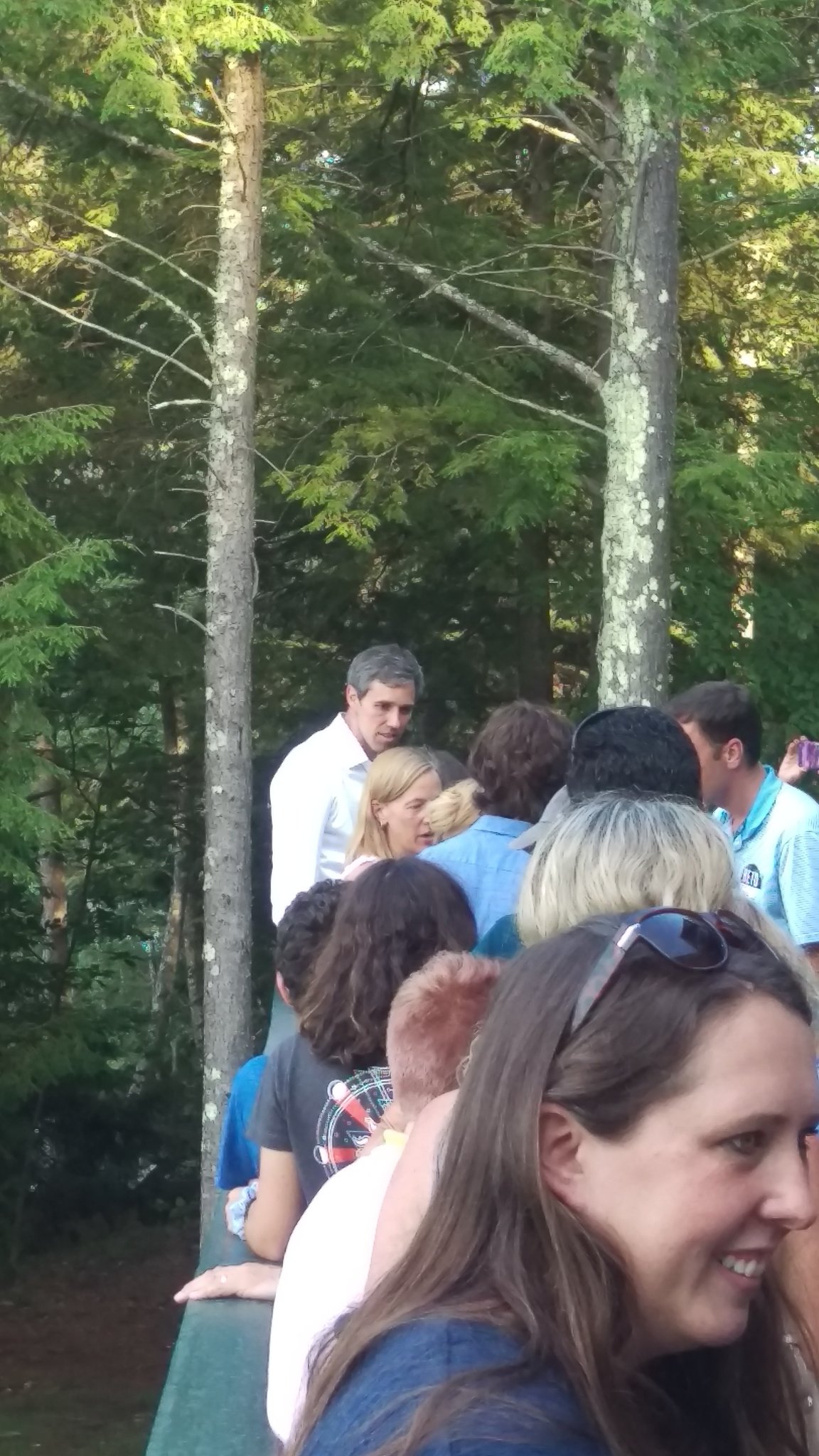 Here he is with another local politician of note.
I came away impressed by Beto's knowledge of policy and his rapport with voters. For someone who came on the national stage only recently, he is well-versed in national issues. More importantly, perhaps, he exudes an earnestness and likability that contrasts with the more polished – some might say cynical – veneer of established candidates like Biden. No wonder Beto's very young staff clearly adores him. It's been a while since I've seen a candidate who seems to embody the idea that politics is a force for good in a way that attracted younger voters.
And yet – he has not caught on. As we left, I was asked by a reporter whether I thought I was visiting a campaign that was in a downward spiral.  I replied that it was still early in the campaign, and that polls were not necessarily very predictive of outcomes at this stage. The reporter's question is a reminder that if the press narrative deems O'Rourke candidacy no longer viable, it may very well become a self-fulfilling prophecy.   Since my visit to his campaign, two more New Hampshire polls have come out.  The St. Anselm poll has Beto at zero support, and the CNN/UNH has him at 2%.  Clearly, he has an uphill road to climb if he is going to break into the top tier of candidates here.  This puts even more pressure on him to have a strong debate performance in two weeks.
As we left, I took one last picture, capturing Beto in his best JFK pose. I could not help but wonder if the sun was setting on his candidacy, or that this is the dawn of a new era in American politics. To be continued…. .