Beto O'Rourke broke into the national consciousness when, as a sophomore member of Congress, he challenged Republican Senator Ted Cruz in the 2018 Texas Senate race. Although initially given little chance of unseating Cruz, O'Rourke parlayed an unconventional grass-roots campaign (he visited all 254 counties in Texas) and savvy social media presence, fueled by record-breaking donations in outside money from Democratic activists, to come within 2.7% percentage points (220,000 votes out of 8.3 million cast, or roughly 53% of voters) of beating the sitting Senator. That was the best performance by a Democrat for statewide office in several decades, and the evidence suggests that O'Rourke's campaign boosted Democrats down ballot, with the Party picking up two U.S. House seats, two state Senate seats and 12 seats in the state House. While analysts continue to debate how much of the outcome reflected displeasure with Cruz and the changing demographics of the state more generally, the race immediately vaulted O'Rourke into national prominence.
Now O'Rourke is trying to catch lightning in a bottle again, this time while running for President.  To do so, he is emulating his Texas campaign, by again adopting a grass roots strategy centered on voter outreach and funded by small donor activists.  So far, however, despite an initial burst of enthusiasm, and a significant haul in campaign cash,  in response to his March 14 announcement (complete with talking hands) on social media that he was seeking the presidency, O'Rourke has struggled to recapture the magic of his Texas campaign.   His support in the RCP aggregate national polls peaked at just under 10% in the immediate aftermath of his announcement, but he has since dropped to 2.5%, which puts him below the top five candidates in the race, including South Bend Mayor Pete Buttigieg, whose candidacy has stolen some of O'Rourke thunder, and funding, among small donors.
Nor was O'Rourke's standing helped by his recent debate performance, where he found himself targeted by fellow Texan and former Housing and Urban Development Secretary Julian Castro for his views on immigration, specifically whether to repeal section 1325 of the federal immigration code that criminalizes illegal entry into the country.  Castro wants to make illegal entry a civil offense under most circumstances, rather than a criminal one, arguing that as currently written the law provides a justification for Trump's policy of incarcerating parents who enter the country illegally and separating them from their children. O'Rourke is in favor of maintaining the code as it is to provide a legal means to prosecute those engaged in the drug trade and human smuggling. However, Castro claims individuals engaging in these actions can be prosecuted under different laws.  The exchange was prompted by moderator Jose Diaz-Balart's asking, in Spanish, what O'Rourke would do on his first day as president. O'Rourke responded in Spanish by discussing his immigration policy, including his vow not to prosecute those seeking asylum in this country.  He had obviously prepped for this question, since he views immigration as one of the signature issues with which to different himself from Trump, and from fellow Democrats, particularly given his background in Texas. However, he seemed surprised by Castro's attack regarding section 1325, and Castro's charge that "If you did your homework on this issue, you would know that we should repeal this section."   
As I have discussed elsewhere, how the media interprets debates, particularly when rendering verdicts regarding who "won" and who "lost", can independently influence how these events are perceived by the public. In the media's search for signature moments, it is easy for them to exaggerate the impact of one exchange in a two-hour debate. So I was curious to hear O'Rourke on the campaign trail, without the media filter. Toward that end, we left the Biden rally last Saturday and headed north to New Hampshire's lakes region, where O'Rourke was scheduled to host a "town hall" in Meredith, a picturesque town nestled on the shore of Lake Winnipesaukee. It turned out, however, to be more properly characterized as a house party – one of the signature events in New Hampshire in which a party activist hosts a candidate for the opportunity to interact in a more personal setting.
After a long day on the road, and the heat of the Biden rally, we could not help but be impressed by the beautiful (and much cooler!) setting when we finally arrived.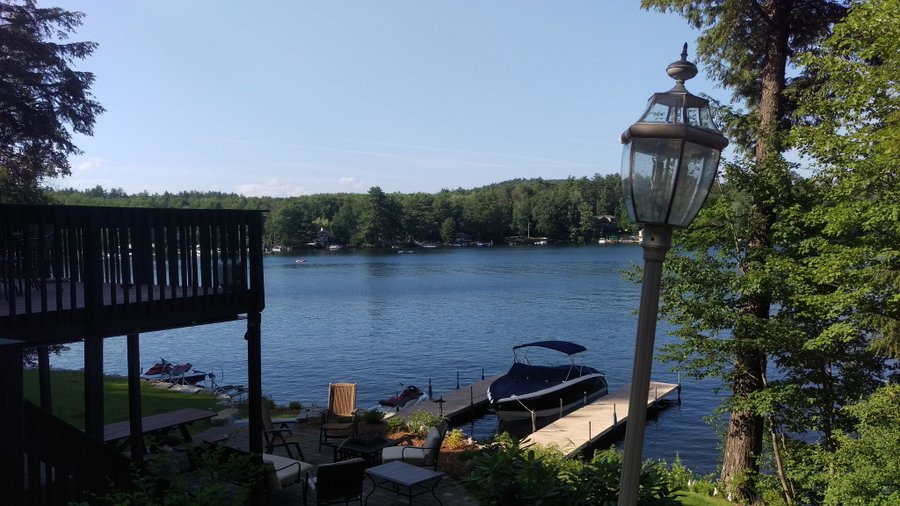 This was the last event of the day for O'Rourke and we were curious regarding what kind of turnout he would get, particularly since we had been told that this was "Trump" territory (he won Meredith in 2016 over Clinton, 2160 to 1,709.) When we arrived we were greeted by a young, enthusiastic but very professional staff, who signed us in, gave us a Beto sticker and then ushered us into the house to await Beto's arrival. There were about 20 people when we arrived, but the number soon swelled to close to 80 or more, and we were encouraged to move closer into the living room to allow space for late arrivals. I took the opportunity to canvas my fellow guests. Several were from out of state – two from California! – and they said they were there primarily to see what Beto was like, but were not necessarily supporting him. In the center of the room, Beto's staff had handed out Beto signs, including to one to this very young voter, which generated much cooing and smiles from all of us.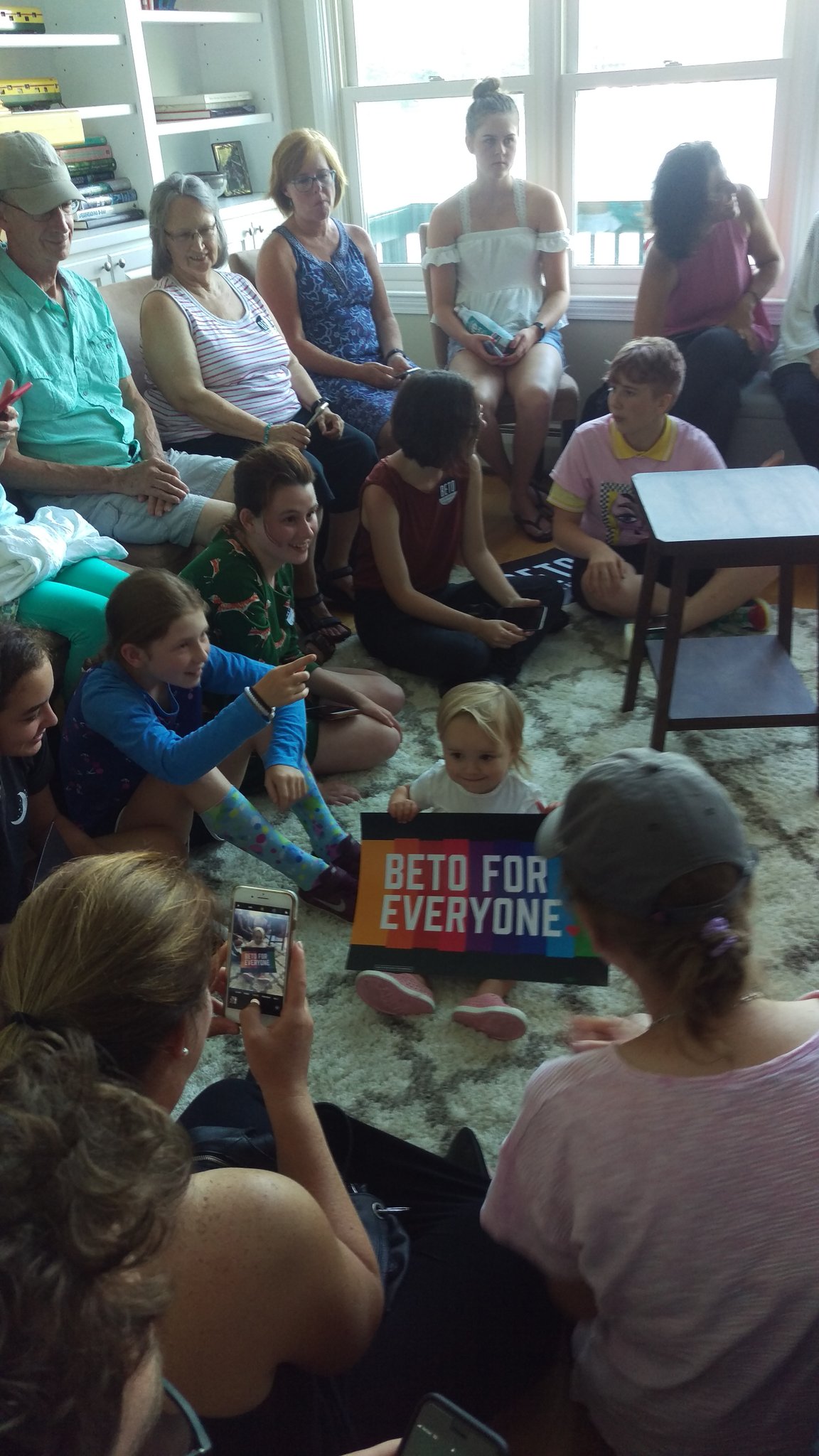 And then we were told Beto had arrived, and the staff led us in a chant of "B-E-T-O! Let's go, Beto!" which rose to a crescendo as he entered the building. In my next post I'll describe his stump speech, and the audience reaction.