Last Saturday I attended a Trump rally in Windham, New Hampshire – a relatively affluent town (median income was $127,868 in 2014) of just under of 15,000 people located in the southern portion of the Granite State.  Regular readers will know that I've attended several Trump rallies, but this was the first one since I was at Trump's coronation in Cleveland, and I was eager to see whether he was attracting new supporters and, if so, what they saw in him. I've learned through experience that the reasons Trump supporters give for backing him often bear scant resemblance to what the twits on my twitterfeed tell me is really motivating Trump voters.  The experience provided a fascinating window into the minds of Trump supporters.
New Hampshire is considered to be a battleground state, with the latest Huffpost polling aggregator giving Clinton almost a 5% lead.
Drew Linzer's poll tracker, which uses a slightly different algorithm, gives Clinton a 7% lead in New Hampshire.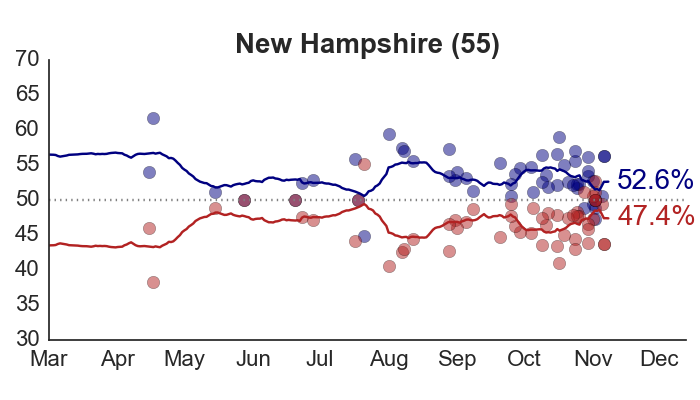 Because Trump had been in the region at two local private fundraisers earlier in the day (one on the Cape, and the second on Nantucket), it made sense for him to make a campaign stop in New Hampshire. But his choice to hold the rally in a high school gym did not work out well.  When we arrived, tickets in hand, about 40 minutes before the scheduled 8 p.m. start, we saw cars lined up on the entrance road for a couple of miles, and scores of people appeared to be walking away from the high school.  It turned out the fire marshals had already closed the doors to the packed gymnasium, citing local fire codes.  That worked out well for me, as it gave me the opportunity to talk in depth with dozens of Trump supporters who remained outside the rally, hoping for a glimpse of Trump. (Note the child with the oversized Make America Great Again red cap!)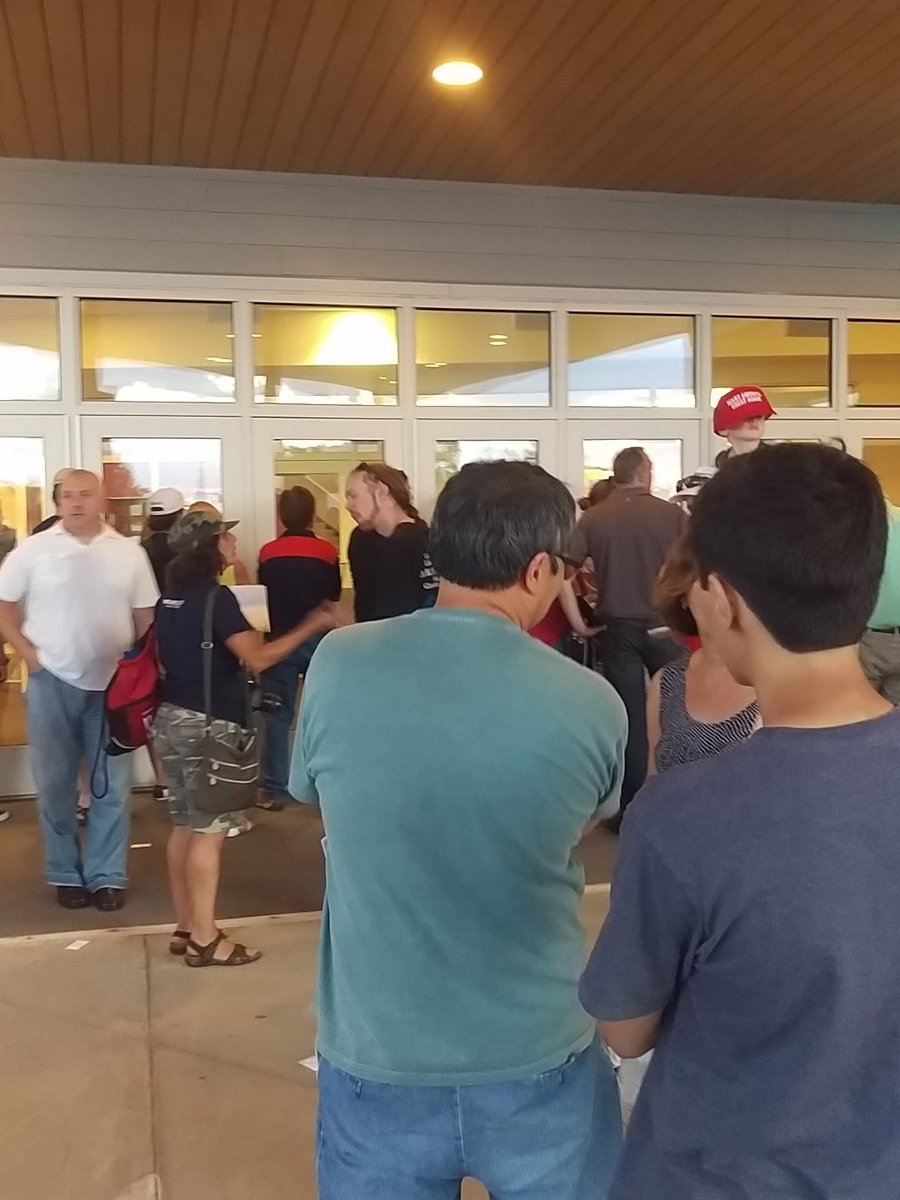 (As it turned out, about halfway through Trump's speech, people began trickling outside, complaining about the stifling heat inside the gymnasium.  "You're lucky you're out here," one person muttered to me as he stumbled outside, bathed in sweat.  Scott Brown, who introduced Trump, was one who left early as seen in this blurry picture:)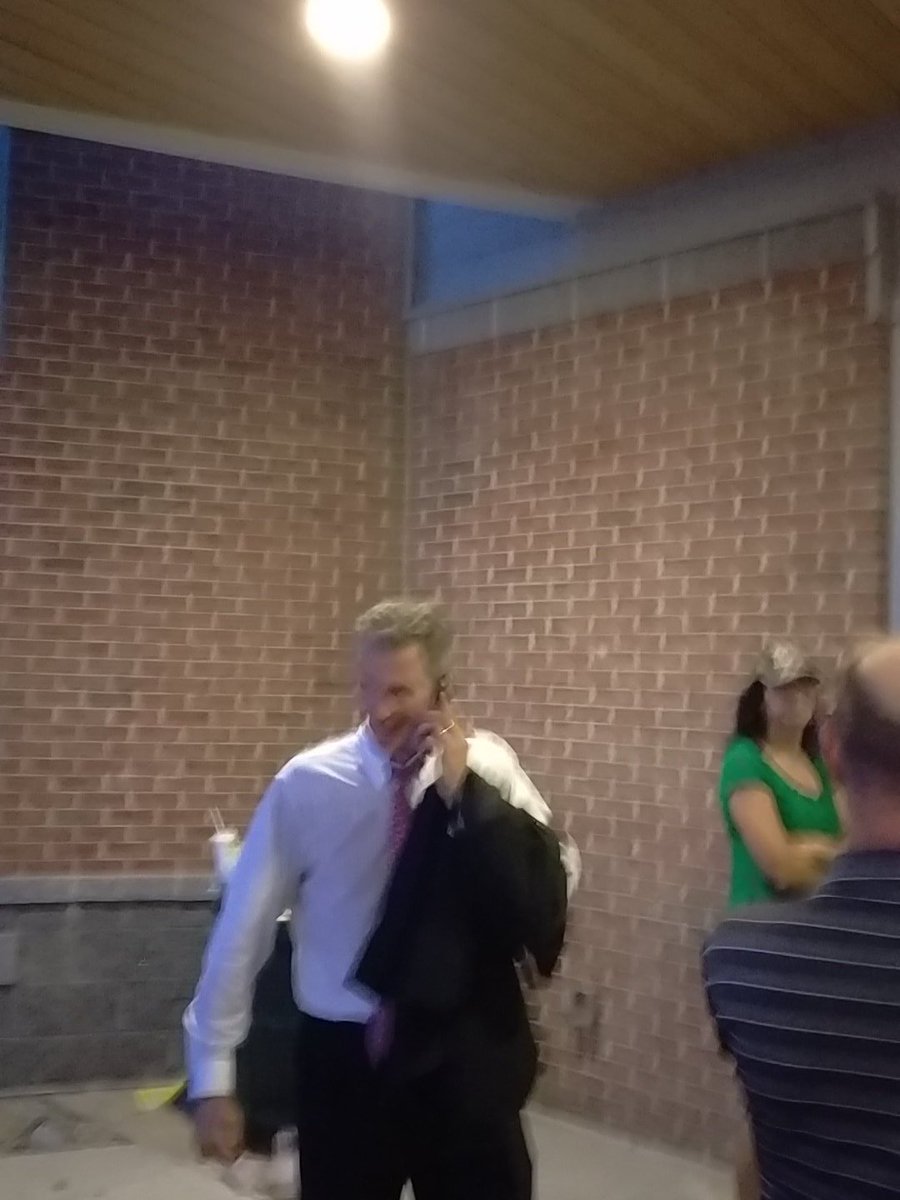 I consciously sought to talk with about an even mix of men and women (there were not a lot of racial or ethnic minorities in the crowd that I could see).  I have found that if I make it clear that I am a political scientist doing research (I show them my business card), and not a member of the media, people at these rallies are only too glad to talk to me, and in great depth.  I began by asking them if they were supporting Trump, and if so, why.   From there I probed more deeply, asking about the previous candidates they may have supported, what they thought of Trump's stances on issues and his qualifications for office, and how strongly they were committed to voting for him.  As much as possible, however, I let them take charge of the conversation.  My goal was to elicit a more thorough understanding of what they thought of Trump than one can get through the more fixed interview protocol used in surveys.
It quickly became clear that two themes dominated the thinking of Trump supporters.  The first, expressed – unprompted by me – by every person I talked to, was economic anxiety.  Interestingly, that anxiety was not directed so much at their own situation but toward that of their children, or others close to them.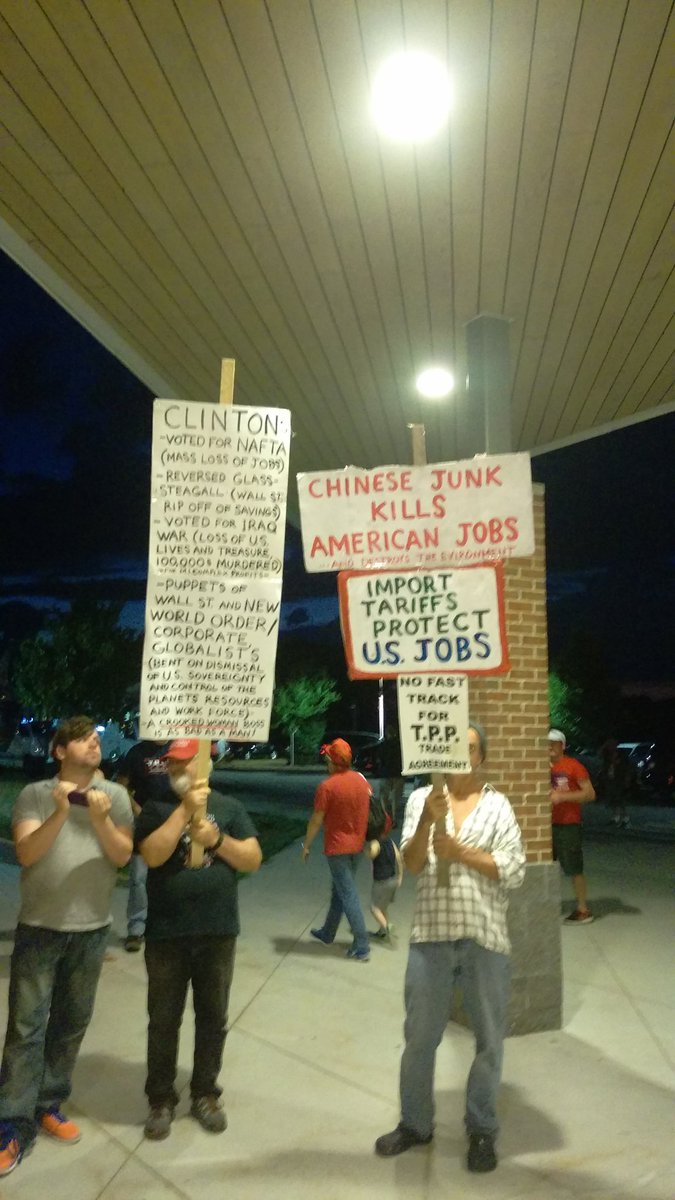 One women, in her forties, got emotional as she told me her daughter and son-in-law were about to have twins.  "They work so very hard," she said, "and yet they aren't getting ahead."  A second woman, who appeared to be in her early thirties, and who is a nurse, said students graduating from nursing school today are starting at salaries $10 lower than what she earned starting out a decade earlier.  "That's not enough to pay off their loans," she observed.  She said she had been an Obama supporter, in part because she backed Obamacare, but she now thought the health care law was a disaster for both providers and consumers.   A third woman told me she was a first-generation immigrant who was attracted to Trump because she believed in capitalism.  "I've lived under socialism," she told me.  "I want capitalism."  Like many of the people I talked to, she liked Trump because of his business background, and his lack of political experience, both of which she saw as virtues.
When I pushed these people to explain how they thought Trump could speed up the slow economic growth they associated with the Obama presidency, the common response was some variation of, "I don't know, but we have to try something new."  Others responded by noting that "it can't get any worse" under a Trump presidency. One man, who appeared in his mid-forties, recounted a conversation he had with business associates on this topic: "They told me that if it requires blowing up the existing system to get meaningful change, it has to be done."  Here is where I saw how Trump's lack of political finesse worked in his favor among these voters – something that's hard to see based on the more critical coverage he gets on cable news and social media.
I asked several people what they thought of Trump's often inflammatory comments. One woman acknowledged that she sometimes wished he would "tone it down a little." (She also pointed to several of the items being hawked outside the event, including the ubiquitous "Hillary Sucks – But Monica Sucks Better" t-shirt, as offensive.) But most of those I talked to saw Trump's blunt talk as a virtue.  "Sometimes you have to say these things" to make changes, one man told me.  A second man, who appeared to be in his 70's, asked me, "Have you ever worked in New York?"  When I replied no, he said, "Well, that's how you talk when you do business in New York. There are a lot of bad people there, and that's how you get things done with them."
I pressed several respondents on whether they thought there were racial undertones to Trump's statements on immigration, and whether they thought other (not them!) Trump supporters might be partially animated by racist beliefs.  Not one person agreed with the notion, although one person acknowledged "I can't speak for what motivates all of his supporters."  One individual, a Republican Party official who was at the rally registering voters, told me, "Here in New Hampshire, voters tend to associate Trump's comments on building a wall and immigration with the opiate crisis, which has hit people hard here. They think doing anything to secure the borders is going to help."
The second theme that emerged, again unprompted by me, was a deep antipathy toward Hillary Clinton. One man, in his early 40's, told me he wasn't voting for Trump as much as he was against Clinton. Almost to a person those I talked to expressed a fundamental belief that she could not be trusted.  At one point in our conversation, the woman whose daughter is having twins lowered her voice to tell me, "I'm a Roman Catholic and a good Christian, but I just have to say this: that woman [Hillary Clinton] is evil." When I pressed several of them to compare her knowledge on issues like foreign policy to Trump's, they pushed back against the idea that she was somehow more qualified than him.  One man visibly recoiled when I suggested she might be, on paper, better prepared to serve as commander-in-chief.  "You can't believe a word she says!" he replied incredulously.  As I've noted in previous posts,  despite fact-checking statistics that seem to show Clinton's statements are more often factually correct than are Trump's, there is a deep and abiding perception among a good portion of the population that Clinton is simply not trustworthy.  Some of that mistrust, according to those at the NH Trump rally, goes back to events occurring under Bill's watch.  People I talked to often referenced the two of them together.
Many of the people I interviewed did not start out as Trump supporters.  Several were originally Kasich or Rubio backers, but most said they were now supporting Trump. One Kasich supporter who was now voting for Trump said he couldn't bring himself to vote for Clinton. One woman, who appeared in her early 20's, said she had read Trump's book The Art of the Deal when she was a teenager, and it had inspired her to go into real estate.  "I've always admired him," she acknowledged.
I interviewed only one person, a young woman who appeared to be in her twenties, who said she was not voting for Trump. "I was just curious to see a Trump rally," she told me.  When pressed, she told me she was voting for Clinton, but not because she supported her, but because "she is a Democrat. I'm voting for the Party."  As I noted above, at about the mid-point of Trump's speech, spectators began trickling out complaining about the oppressive heat inside the building.  Unfortunately for some of them, the Trump supporters outside the building thought they were protestors getting tossed from the premises, and their appearance sometimes incited boos and heckling from the crowd.  Throughout Trump's speech, those outside periodically erupted into chants of "Trump, Trump, Trump!", "Build that Wall!" and "Lock her up!"  One of the more imaginative chants was started by a Trump supporter who said, "Everyone talks about Trump and 1984" – apparently referencing Orwell's classic book about authoritarian rule.  "Well, I have a better date:  1789!"  Whereupon people began chanting, "1789! 1789!" As one who teaches the intro course on American politics, I felt a certain pride in this particular chant.
Because we wanted to beat the traffic, we left the rally before Trump concluded his speech.  You can watch the full version here.  As always, I was struck by the contrast between what Trump supporters told me regarding why they support his candidacy, and what I hear on cable news and read on social media. (I'm not sure how this event was covered, but it had a heavy local media presence.)
Granted, this was a rally in New Hampshire, and it may not be representative of what Trump supporters elsewhere believe.  But the deep concern about the economic future of the country is something I've heard from Trump supporters at other rallies I've attended as well.  As one Trump supporter in New Hampshire explained to me, "These people still believe in the American Dream about getting ahead, but they they think it is slipping away from us."  The other aspect of the interviews that stuck with me is how thoughtful those I talked with were when giving their responses.  It was clear they were knowledgeable about the candidates and the issues, and that their support was based on a careful consideration of both. Of course, I don't doubt that there were the occasional conspiracy theorists sprinkled in Trump's crowd as well.  But on the whole this clearly wasn't a rally of the brown-shirted thugs that social media often makes Trump's supporters out to be.  Trump has clearly tapped into a genuine feeling of economic anxiety among a significant number of voters.  Whether that will be enough to propel him to the presidency remains to be seen.  But it is a feeling that Clinton and her supporters would do well to take seriously.
Addendum 4:19 8/11/16:  This Wall St. Journal article on the impact of Chinese imports on New Hampshire towns and communities in other states dovetails exactly with what Trump supporters were telling me at his rally on Saturday.