There are dueling narratives occurring as the race moves to Alabama and Mississippi for tomorrow's primaries.  The first is the media-driven one focusing on issues of momentum, contest victories and potentially game-changing "surprise" results.  In this narrative, tomorrow's contests are important because they could resurrect, or end, Newt Gingrich's candidacy, since he has emphasized the need to do well in southern states.  But if Mitt Romney won two southern states with large evangelical voting blocs he might finally put to rest the claim that he can't seal the deal with these voters.  Indeed, the Washington Post's Chris Cilizza argues that the possibility of a "surprise" Romney win is "why the Mississippi and Alabama primaries tomorrow could truly matter — if, that is, Romney can find a way to win one of the two."  It would, he claims, lead to "an upsetting of expectations and conventional wisdom that could reset the governing dynamic of the contest."
I have no doubt that a Romney victory in one or both southern states would upset the prevailing media narrative.  But it wouldn't do much to change the political science narrative, with its focus on the delegate math.  Nor would it be much of a surprise. This is because current polling has Romney in something close to a statistical dead heat for the lead in both states.  Here's the latest polling data, as compiled by Mark Halperin at Pollster.com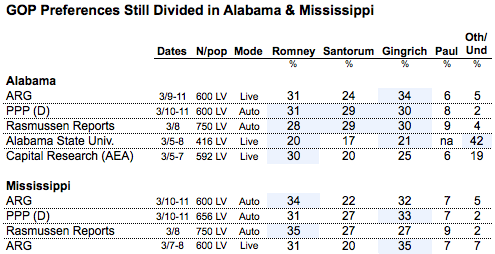 If these polls are accurate, it is not likely to matter all that much whether Mitt wins or finishes a close second, or even third.   This is because no matter where he places won't have much impact on the delegate math. Gingrich and Santorum are once again likely to divvy up a portion of the evangelical/tea party/lower income vote, which will likely prevent either one from clearing the 50% threshold required to win most of the combined 84 delegates at stake in the two states and come close to shutting Romney out.   That means Romney is likely to finish very close to the top of leaderboard – and win close to a third of the delegates whether he wins, places or is merely in the show.
I don't mean to entirely dismiss the importance of a significant change in the media narrative based on tomorrow's results.  A two-state sweep by Gingrich may put an end, for the moment, to calls for him to drop out.  A third place finish by Santorum may resurrect doubts about his ability to broaden his appeal. (Keep in mind that his "victory" in Saturday's Kansas caucus was based on winning less than 1% of that state's eligible voters.) And two last-place finishes by Romney would once again suggest he lacks "true grit", at least among southern evangelical voters.  Any of these results could conceivably affect voters' perceptions and donors' willingness to fork over more cash.
Will tomorrow's races be suspenseful?  Certainly.  Given the current polling, it may take most of the night before the networks declare a winner in either state.  But surprises that change the dynamic of this race? I'm not expecting any.
Unless Chuck Norris shows up and kicks some ass.