There is a great tree in bloom right now, I suggest dropping everything to go see. It's the class tree for the class of 1940, planted in front of the Emma Willard House (Admissions). Called a Pagoda Tree, Chinese Scholar Tree, Japanese Pagodatree, the latin name I learned in school was
Sophora japonica
, but I've just learned this has changed to
Styphnolobium japonicum
. (You're on your own for pronunciation there) The creamy white flowers are similar to our ubiquitous Black Locust, or to the great Yellowwood.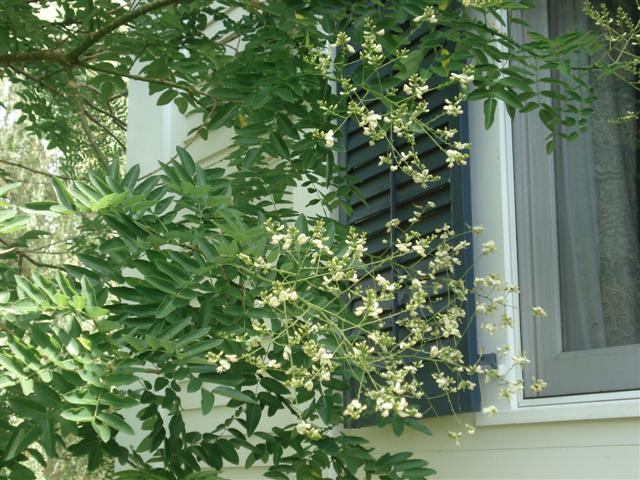 This is another of the hidden treasure trees on campus, like the Flowering Dogwood by Allen. For you gardeners, this is a zone 5A tree. Translated-shouldn't do as well as it is doing this far north. It does suffer twig dieback in the spring, this may be from the cold, or may be from a twig blight. Either way, it does not seem to affect the flowering at all, as it has bloomed consistently for the 3 years I've been here.
Most books state the tree will get 60-75′ tall, but this would be surprising this far north. Remarkably tolerant of harsh urban conditions, this makes a great street tree. Native to China, it is extensively planted around temples in both China and Japan, prized for it's late summer flowers. A member of the pea family, Fabaceae, it cannot fix nitrogen from the air like other legumes.
Looking up this tree in Wikipedia, I learned of the Guilty Chinese Scholartree, a famous tree in Beijing where the last Ming Chongzhen Emperor hung himself in 1644 after allowing the Forbidden City to be stormed by peasants.