Medical schools are partnering with veterinary schools and zoos on cross-species education and research. Turns out that animals and humans might be more similar than we think.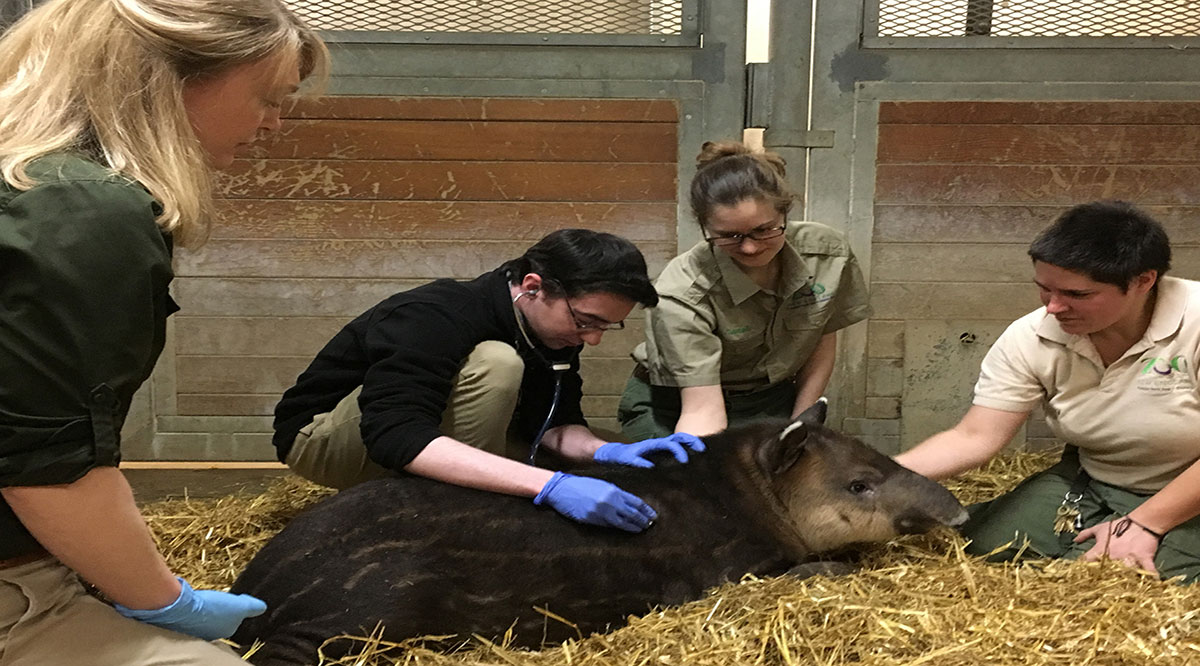 For Julia Hyman, a fourth-year student at Harvard Medical School, getting accepted to work with animals at the Franklin Park Zoo near campus this fall was "a childhood dream."
Yet she immediately found herself helping the zoo's veterinarians decide the heaviest question a caregiver confronts: Could they save the life of Luther the white tiger? The 14-year-old cat had been stricken with metastatic cancer, and veterinarians spent weeks refining the diagnosis and researching treatments, while balancing likely outcomes against the effect on his quality of life. For example: What would be the full impacts of amputating one of Luther's front legs?
Hyman says the care she witnessed for Luther will influence her care for people: "They took so much time to make sure they made the right decision — what would lead to the least amount of suffering and the greatest amount of benefit."
Hyman was enrolled in Harvard's three-year-old One Health Clinical Elective, through which medical students go on four-week rotations shadowing veterinarians at the zoo, with the daily clinical practice providing context for readings and discussions on ecosystems and biodiversity. "The point is for students to understand the role of biodiversity in protecting human health and the interdependence of human, animal, and ecosystem health," says Eric Baitchman, DVM, vice president of animal health and conservation at Zoo New England, which runs the zoo.
That program illustrates one of several ways that medical students and doctors are striving to improve human health by learning from animals and those who treat them.
In recent years, doctors, veterinarians, and other scientists have come together in conference halls, classrooms, labs, and zoos to share and apply knowledge about the progression of harm and healing across species. Among the more recent projects: to see what the degradation of a salamander species in the waterways of Missouri might foretell about how pollutants harm people exposed to the same water; to explore if a protein that protects an elephant from cancer can be used to develop a treatment for humans; and to discover if treating an antibacterial-resistant infection in the family dog can yield ways to alleviate similar infections in people.
"We're all the same under the hood," says University of Pennsylvania School of Veterinary Medicine anatomy professor Peter Dodson, MSc, PhD, who lectures at an educational gathering among medical and veterinarian students there, dubbed the Anatomy Exchange. "An anatomist switching between a human and a dog is like a mechanic switching between a Ford and a Chevy."