Bernie Sanders believes that all students deserve the opportunity to receive an affordable, quality education from the earliest stages of schooling to high-level degrees. He has sponsored bills to make public colleges and universities tuition-free, as well as to drastically reduce interest rates on student loan debt.
In a highly competitive global economy, we need the best-educated workforce in the world. It is insane and counter-productive to the best interests of our country and our future, that hundreds of thousands of bright young people cannot afford to go to college, and that millions of others leave school with a mountain of debt that burdens them for decades. That shortsighted path to the future must end.
As President, Bernie Sanders will fight to make sure that every American who studies hard in school can go to college regardless of how much money their parents make and without going deeply into debt.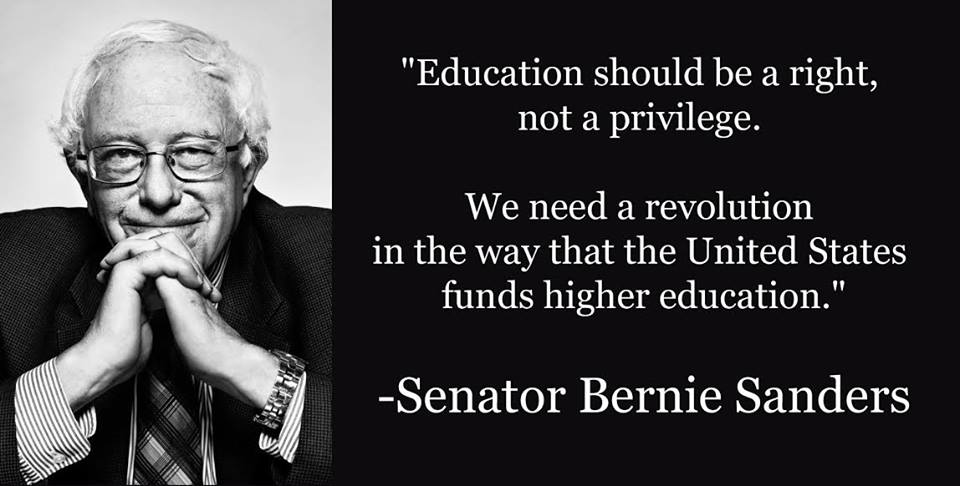 College Tuition: All public colleges and universities should be tuition-free.
Early Childhood Education: We need high-quality, affordable early childhood education.
Educators: Colleges and universities should hire more faculty and increase their percentage of tenured and tenure-track professors.
Financial Aid: Students should not have to reapply for financial aid every year.
K-12 Education: No Child Left Behind should be seriously overhauled.
Student Loans: Student loan interest rates should be heavily reduced.
Work Study: Colleges and universities should expand work study programs to include all interested students.
DREAMers: Children brought into America illegally as children need to be given a fair and attainable opportunity to remain in the U.S., get an education, and contribute to the economy.