Inaugural Monterey Threat Financing Forum March 20-22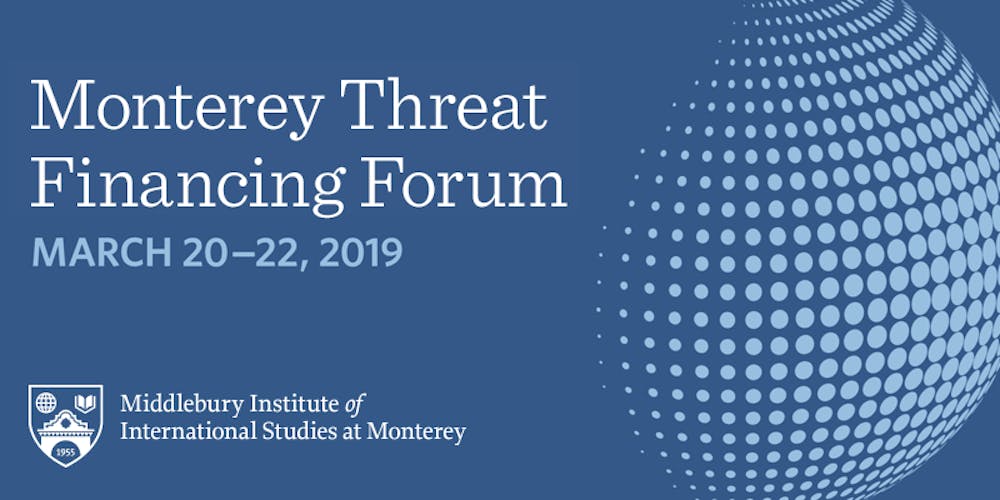 The Middlebury Institute Center on Terrorism, Extremism, and Counterterrorism is hosting the Monterey Threat Financing Forum this March. The event will take place on the Monterey campus and feature experts from government, FinTech, and the finance industry. The event is geared towards professionals in the threat finance, sanctions, and anti-money laundering fields with 3-5 years of relevant work experience. Current graduate and undergraduate students are welcome to attend.
The Middlebury Institute's Center on Terrorism, Extremism and Counterterrorism (CTEC) and its Financial Crime Management program are hosting the first Monterey Threat Financing Forum (MTFF), an ambitious international conference featuring government and private sector speakers in the field of counter-terrorism financing, counter-proliferation financing, threat financing investigations, and sanctions compliance. The conference will be held on the Institute's Monterey campus on March 20-22.
"We're excited to be hosting this inaugural event," says Professor Moyara Ruehsen, director of the Financial Crime Management Certificate. "No other educational institution can match the Middlebury Institute's curricular focus and expertise when it comes to threat financing. And thanks to our sponsors, we're also excited to be able to provide this learning and networking opportunity to professionals in the field at minimal cost."
"One of CTEC's three core focus areas is threat finance and sanctions," adds CTEC Director Jason Blazakis. "The discussion led by top notch experts in the area of sanctions and threat finance at the MTFF fits squarely within the CTEC mission." Participants can earn 12 Certified Anti-Money Laundering Specialist (CAMS) credits by attending this conference.
Organizers announced this week that the keynote speaker will be Director of the Office of Foreign Assets Control (OFAC) at the U.S. Department of the Treasury Andrea Gacki. OFAC is the federal agency charged with implementing and enforcing economic sanctions on behalf of the U.S. government. Before joining OFAC 10 years ago, Gacki spent eight years at the Department of Justice's Civil Division in the Federal Programs Branch. She holds a B.A. from the University of Michigan and a J.D. from the University of Michigan Law School.
Participants can earn 12 Certified Anti-Money Laundering Specialist (CAMS) credits by attending this conference. Sessions will cover the latest sanctions evasion typologies, and how blockchain forensics can trace cryptocurrency transactions, supplemented by break-out workshops that offer the chance to analyze a fictitious terrorism financing case, trace the transnational workings of a real North Korean proliferation-financing operation, and learn how network analysis tools can aid investigators.
For the full agenda and more information about the conference visit the Monterey Threat Financing Forum website.