Now accepting applications for Fall 2018!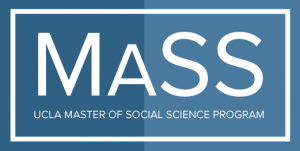 Whether you are considering a future as an academic researcher or looking to launch a meaningful professional career, the UCLA Master of Social Science program could be your next step to success. With a MaSS degree, you will be prepared to pursue a doctoral degree in the Social Sciences, as well as careers that require strong analytical, quantitative, and qualitative skills.
The UCLA Master of Social Science Program (MaSS) is an intensive 9-month MA program offering multidisciplinary training in problem-based social science research.
Don't miss your opportunity to be part of an innovative learning community at a world-class research university!
Application deadline: April 15th, 2018
Applications will be reviewed on a rolling basis in the order they are received
For more information about UCLA MaSS and how to apply, click here.