You are currently browsing the category archive for the 'Events' category.
The Film & Media Culture Department welcomes the Middlebury community to two events presenting the independent work of our seniors:
Thursday 5/7, 7:30 pm in Dana Auditorium: Independent Video Screenings by Waylon D'Mello, David Ellis, Jason Gutierrez, and Matt Leonard.
Following the screening at around 8:30 pm on 5/7, we will have a end-of-semester reception in Axinn's Abernethy Room to celebrate the retirement of Don Mitchell.
Monday 5/11, 1:30 pm in Axinn 219: Independent Written Work presentations by Ioana Literat, Jared Rosenberg, and Aaron Smith
Hope to see many of you there.
This week, there are two screenings with filmmakers attending:
On Wed April 15 at 7:45 pm in Dana, we'll be viewing the PBS broadcast of Planet Forward. The show is a companion to the website, which features short user-generated videos about global warming and energy issues. The show's producer and host, Frank Sesno, is a Middlebury alum, former trustee, and parent, and he has involved our current students in the project – two Middlebury videos are featured on the show, and one student appears on a panel.
Following the airing, we will watch some of the Middlebury-produced videos in full, and then have a panel discussion about the project and the issues with some of the student video producers, Film & Media Culture professor Jason Mittell, and Environmental Studies professor Jon Isham.
On Thursday, April 16 at 7 pm in Axinn 232, come see Wings of Defeat introduced by director Linda Hoaglund. Wings of Defeat brings viewers behind the scenes of World War II's Pacific theater to reveal the truth about the Kamikaze-the "suicide bombers" of their day. Interviews with surviving kamikaze, rare battle footage and Japanese propaganda reveal a side of WWII never before shown on film. American vets from the greatest generation tell harrowing tales of how they survived attacks. Wings of Defeat shatters the myth of the fanatical kamikaze to reveal a generation of men forced to pay for an empire's pride with their lives. The film is the 2009 winner of the Organization of American Historians Eric Barnouw Award.
Film scholar Laura Mulvey will give a lecture entitled "Back to Modernity: thoughts on reality, narrative cinema from another technological age" on March 6, 2009 at 12:30 in Axinn 229.  Ms. Mulvey is a professor of film and media studies at the University of London, teaching this year at Wellesley College as the Mary Cornille Distinguished Visiting Professor in the Humanities.  Mulvey, one of the most prominent film scholars of the past 30 years, will discuss the new possibilities of spectatorship opened by digital technology and how these possibilities impact the field of film theory. The lecture is free and open to the public. Sponsored by the department of Film and Media Culture.
Super-senior JJ Hurvich will be screening her senior video project on Friday, 1/23 at 7:30 in Johnson, in conjunction with a studio art student show. Please come show your support for their work!
5:00 PM – "Self-Exposure / Full Disclosure"
Opening of senior work by Maddie Terry, '08.5, in the Johnson gallery.  The show consists of works from a year-long independent photography project within the department of studio art.
5:00 PM – 7:15 PM
Wine reception with refreshments in the gallery and mezzanine spaces
7:30 PM – "Say Your Name into the Camera"
Screening of the senior work of JJ Hurvich, '08.5, who wrote, directed, produced and edited the film based on joint studies within the Film and Media Culture and English departments.  The film will be screened in the Johnson lecture hall across the mezzanine from the gallery.
The Environmental Studies Department, Film and Media Culture Department, and MCAB present:
A screening of Taking Root: The Vision of Wangari Maathai followed by an opportunity to speak with the film's Vermont-based producers, Alan Dater and Lisa Merton of Marlboro Productions
Wednesday January 21, 4:30 in MBH216
Taking Root: The Vision of Wangari Maathai, a new film by Lisa Merton and Alan Dater, tells the inspiring story of the Green Belt Movement of Kenya and its unstoppable founder, Wangari Maathai, who, in 2004, became the first environmentalist and first African woman to win the Nobel Peace Prize. Taking Root illustrates the development of Maathai's holistic worldview and model for sustainable development. Maathai discovered the core of her life's work when she turned her attention to the rural women with whom she had grown up in Kenya's central highlands. Their daily lives had become intolerable: they were walking exhaustive distances for firewood, clean water was scarce, the soil was eroding, and their children were suffering from malnutrition. One hundred years of colonialism and neo- colonialism had devastated the forests they'd lived with for centuries. "Why not plant trees?" Maathai thought. Trees provide shade, prevent soil erosion, supply firewood, building materials, and produce nutritious fruit. With this realization Maathai founded the Green Belt Movement, a grassroots organization encouraging rural women and families to plant trees in community groups.
As the trees and the Green Belt Movement grew, a spirit of hope and confidence also grew in ordinary citizens – especially amongst rural women – only to be met with violent opposition from the government of Daniel arap Moi.  Maathai and her colleagues soon bore the brunt of President Moi's political oppression. In response, Maathai's political activism only grew. At great risk she lead numerous confrontations in defense of the environment and social justice, all of which brought her country closer to democracy.
Through TV footage, newspaper headlines, and chilling first person accounts, TAKING ROOT documents these dramatic confrontations of the 1980s and 1990s and captures Maathai's infectious determination and unwavering courage.
More info available on the film's website.
Two presentation on campus this Monday may be of interest for FMMC students:
The Long Memory: An (Incomplete) History of Grassroots Media in Quebec
by Anna Leventhal, Independent Scholar and Writer
4:30 p.m., Monday, November 24, 2008
Robert A. Jones '59 House conference room
and a screening/director Q&A:
An East German Director in Latin America : The Ascent of the Chimborazo (1989)
by Rainer Simon, Filmmaker
7:00 p.m., Monday, November 24, 2008
Twilight Hall auditorium
Ascent of the Chimborazo (96 mins., German with English subtitles):
In 1802, the young Alexander von Humboldt led a scientific expedition to the Chimborazo in Ecuador, thought to be the highest mountain in the world and never before climbed. At great risk to his own life, as well as those of his companions – the French doctor and botanist, Aimé Bonpland, and the local créole aristocrat, Carlos Montúfar – Humboldt carefully measures and documents flora, fauna, soil, rocks, water, and the air itself. They survive snow, cold, and the thin mountain air and explore regions that no European had seen before. But it is his encounters with the indigenous people of Ecuador that deeply fascinate him. He explores their culture and language and comes to see German society in a new light. Partly filmed on location in Ecuador.
Director, documentarian and writer Rainer Simon worked for the East German DEFA Film Studio  from 1965  to the fall of the Berlin Wall in 1989. He made his directing debut in 1968 with a children's film How to Marry a King. His film The Woman and the Stranger won the Golden Bear Award at the Berlin Film Festival in 1984.   Much of his recent  work focuses on the life and culture of the indigenous people of Ecuador. Simon will discuss his film after the screening.
Sponsored by the Rohatyn Center for International Affairs, the Department of German, the Department of Spanish and Portuguese, and the Department of Film and Media Culture.
I hope you can join us in welcoming Amy Bucher '87 to campus on Monday & Tuesday. On Monday, November 10 at 7:30 pm in Dana Auditorium, she'll be presenting her film, A Walk to Beautiful, an award-winning look at women in Ethiopia who struggle with the social and physical impacts of childbirth injuries. On Tuesday, November 11 at 12:15 in Robert A. Jones House, she will be leading a "career conversation" on her path from Middlebury to a career as a documentary filmmaker.
You can learn more about Amy and her films on her company's website, Engel Entertainment.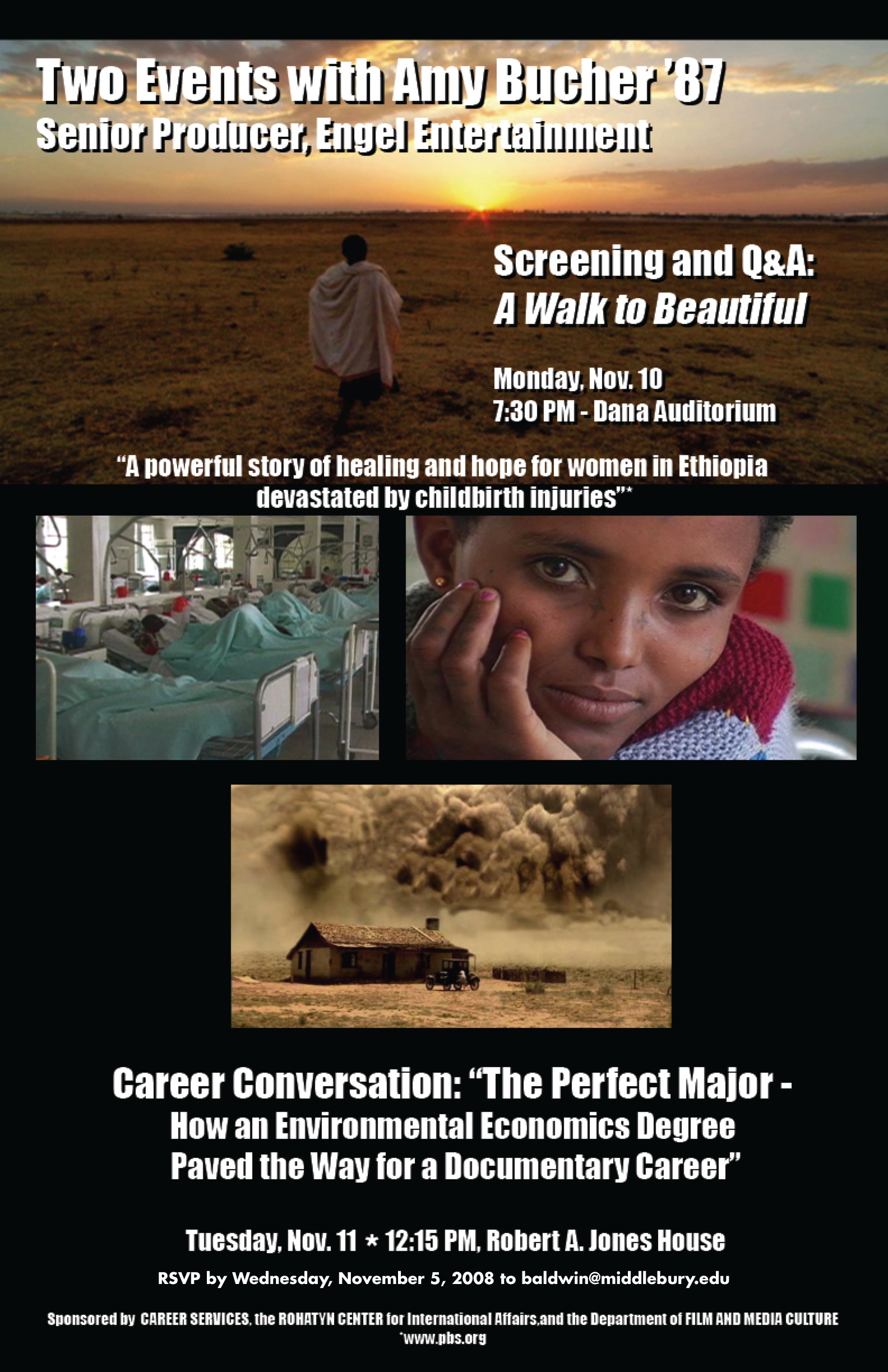 Rescuers During the Holocaust: Their Challenge to Citizens Today
by Pierre Sauvage, Documentary Filmmaker
7:00 p.m., Wednesday, November 5, 2008
Dana Auditorium
Pierre Sauvage is a child survivor of the Holocaust and an Emmy Award-winning documentary filmmaker. He is the president of the Chambon Foundation, which he founded in 1982. His 1989 documentary Weapons of the Spirit, explored the French Village of Le Chambon during the Nazi occupation, where 5,000 Jews were sheltered by 5,000 Christians. Sauvage and his parents were among the rescued. The Chambon Foundation was the first nonprofit educational foundation committed to communicating the necessary and challenging lessons of hope intertwined with the Holocaust's unavoidable lessons of despair.
He is currently working on a film about Varian Fry, an American teacher and journalist who traveled to France in August 1940 on behalf of the Emergency Rescue Committee with the assignment of bringing some 200 well-known intellectuals in imminent danger of arrest (including Marc Chagall, Hannah Arendt, and Max Ernst) to safety in the United States.
Sponsored by the Charles P. Scott Center for Spiritual and Religious Life, the Rohatyn Center for International Affairs, the Holocaust Remembrance Film Fund of the Film and Media Culture Department, Middlebury College Hillel, the Religious Life Council, Intervarsity Christian Fellowship, and the Department of Religion
Assistive listening devices will be available.
Over the next few days, FMMC will be joining in the dedication of our new home and attending events with a number of scholars highlighting the various disciplines housed in Axinn. The full schedule is online, but here are a few specific events that might interest FMMC students:
Wednesday, October 15
7:30 p.m.
Faculty Panel: "Sites of Memory"
Moderator: Jason Mittell; panelists: Rebecca Bennette, Dan Brayton, Rachael Joo, and Chris Keathley
Location: Axinn 229
A discussion about the relationship between memory and place in literature, art, and culture. This topic is inspired by the transformation of our old library—which was the College's centennial building in 1900—into a center for literary and cultural studies.
---

Thursday, October 16
7:30 p.m.
Lecture by Marsha Kinder, of USC's Labyrinth Project
"Dramatizing the Archive: Contested Sites of Memory and Erasure"
Location: Axinn 232
The Labyrinth Project is an art collective and research initiative on interactive cinema and database narrative at the University of Southern California's Annenberg Center for Communication. Under the direction of cultural theorist Marsha Kinder, this initiative works at the pressure point between theory and practice. Kinder produces interactive narratives and installations in collaboration with visual artists and writers known for their experimentation with nonlinear forms.
---
---

Saturday, October 18
9:30 a.m.
Faculty Panel: "Looking Backwards: Milestones in the Field"
Moderator: Jay Parini; panelists: Leger Grindon, Brett Millier, Paul Monod, and Michael Newbury
Location: Axinn 229
The "greatest hits" in their respective scholarly fields.
AXINN DEDICATION
---
Saturday, October 18
11 a.m.
Poetry reading by Donald E. Axinn '51, Litt.D. '89
Location: Axinn Abernethy RoomNoon
Reception and Dedication
Location: Axinn Winter Garden
1:30 & 3 p.m.
Tour of building with discussion of building history by Professor Glenn Andres
2 p.m.
Screening of student films begins on continuous loop, until evening
Location: Axinn 232
8 p.m.
Reception for "Frostiana" and "Sound Investment"
Location: Axinn Winter Garden
8 p.m.
College Choir performs selections from "Frostiana"
Location: Abernethy Room
8:30 p.m. – 10:00 p.m.
Performance by Sound Investment
Location:  Reading Room

10 p.m. – 1 a.m.
Black and White Ball
Bands: Project DCQ and campus band, Yuzimi
Axinn Lawn
---
On Tuesday, Middlebury welcomes a prominent figure in the world of cultural studies, John Storey. Students who have taken my Theories of Popular Culture course know Storey as the author of the books Cultural Theory and Popular Culture: An Introduction and A Reader. Storey will be presenting a talk on the culture of globalization on Tuesday, Sept. 23, at 4:30 at the Robert A. Jones House. Hope to see some FMMC folks there!
One of the key elements of studying Film and Media Culture is continued exposure to film and media examples – faculty incorporate screenings into our courses to broaden the experiences of students beyond the conventional offerings at the mall, or to rethink how you look at Hollywood cinema. Middlebury has two free weekly film series in Dana Auditorium, and we certainly encourage students to attend as many as they can, as well as welcoming members of the college and town community.
The Friday night series is student run, featuring recent Hollywood hits. This fall's offerings have a couple of highlights in Wall-E, another in the long line of great Pixar films, and The Dark Knight, an impressive example of blockbuster filmmaking that aims a bit higher than typical.
The FMMC department sponsors the Hirschfield International Film Series on Saturdays at 3 and 8 pm, focusing on independent and international films that are otherwise unlikely to play in Middlebury or Vermont. The flyer is below or downloadable, so please try to make a few screenings to broaden your horizons!
To kick off the year-long calendar of events, screenings, and lectures, check out Eric Schlosser, Wed 9/12 at 4:30 in Dana Auditorium. Schlosser's best known as the author of the book Fast Food Nation, but his FMMC connection is that he was one of the producers of the film There Will Be Blood as well as Richard Linklater's adaptation of Fast Food Nation. Try to go and ask about his adventures in the film world!