Check this resource for all students interested in applying to medical school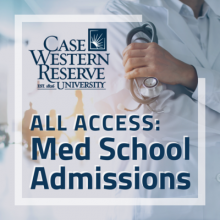 Applying to medical school can be a very complex and confusing process! On top of that, finding reliable and accurate information about the application process can be even more challenging. With nearly 15 years of admissions experience, Christian Essman of Case Western Reserve University School of Medicine, gives the listener a unique view into the medical school admissions world through a series of revealing interviews with key admissions figures from around the country.
All Access: Med School Admissions brings the listeners into informative and entertaining conversations between admissions colleagues. Listeners will learn about a variety of medical schools, what makes their programs unique, and what they are looking for in their prospective students. Most importantly, Christian will lead the discussion on a variety of medical school admissions-related topics where you will get insight directly from the most authoritative sources out there – his admissions friends.
Subscribe on: Apple Podcasts | Spotify | Stitcher | Google Play