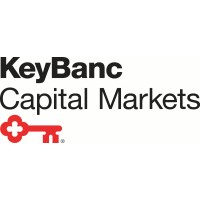 KeyBanc Capital Markets (KBCM) is a full-service corporate and investment bank serving the needs of mid- to large-sized businesses and focused principally on middle market clients in six industry sectors: consumer, energy, healthcare, industrial, public sector, technology, and real estate.
Please RSVP here to attend the info session on Monday, October 1st at 7:00 p.m. in Hillcrest 103.
Sign up for a one-on-one alumni chat session here before 11:55 p.m. on October 1st. Chats will take place on October 2nd.  Hurry, slots will fill quickly.
Cleveland-based KeyCorp (NYSE: KEY) is one of the nation's largest bank-based financial service companies, with assets of approximately $135 billion.* Key companies provide investment management, retail and commercial banking, consumer finance, and investment banking products and services to individuals and companies throughout the United States and, for certain businesses, internationally.